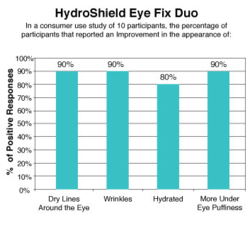 We are confident that our products are the best that skin science can create, but it's lovely to have our customers confirm that. - Dr. Adrienne Denese
New York, NY (PRWEB) March 18, 2013
Dr. Denese, the creator of a range of high-quality skincare products, has released the results of the last of a recent series of scientific studies into the efficacy of their cosmetics products.
HydroShield Eye Fix Duo combines two products into one eye-popping package specially developed to treat the skin around the upper and lower eyelids with the formulation that best suits their different needs. The Duo pack contains both an upper eyelid cream to increase hydration and deliver a more toned appearance, and an under-eye gel to smooth dry lines and wrinkles.
In a consumer use study, 90% of participants reported that HydroShield Eye Fix Duo reduced the appearance of dry lines and wrinkles around the eye, improved under-eye puffiness, and left their eyelids and the surrounding regions feeling firmer and more hydrated.
The skin on and around the upper and lower eyelids requires extra special care. It is particularly delicate, susceptible to environmental damage, and is often one of the first areas to begin to show signs of ageing. The eyes are also the part of the face that gets the most attention from others: the skin that surrounds them often attracts notice, so it deserves special attention.
"After many years of work dedicated to discovering the ingredients and combinations that will produce the best possible results for our customers, it's very gratifying to see their effectiveness shown once again by this series of studies," commented company founder, Dr. Adrienne Denese, "We are confident that our products are the best that skin science can create, but it's lovely to have our customers confirm that."
The Dr. Denese line of skincare products is developed and marketed by SkinScience Labs, Inc., which was founded by Dr. Adrienne Denese in 2001. This award-winning skin care line was created with the application of scientific principles to determine the precise ratio of ingredients needed to get the very best results. Every Dr. Denese product was designed to be part of a complete six step skin care regimen, which will leave the skin cleansed, stimulated and protected.
###
About Dr. Denese
Dr. Adrienne Denese completed her post-doctoral fellowship at Harvard University with a medical specialty in anti-aging medicine. Her company, SkinScience Labs, Inc., and its exclusive line of scientifically developed skin care products, has become one of the largest and fastest growing privately owned businesses in the anti-aging and skin treatment markets. SkinScience Labs, Inc. develops, markets and distributes premium professional skin care products under the highly successful and internationally recognized Dr. Denese® brand. To learn more about Dr. Denese or to purchase her skin care products please visit http://www.drdenese.com.