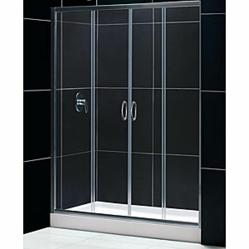 The vision door has a unique design where center panels are sliding away in the middle while the two side panels remain stationary
Aiken, SC (PRWEB) November 11, 2012
Vision shower doors and tub doors are made out of four ¼" thick tempered glass panels with an aluminum frame. The vision door has a unique design where center panels are sliding away in the middle while the two side panels remain stationary. The center panels stay sealed while closed with a magnetic strip running the full length of the center edge. The sliding panels glide on wheels attached at the top and the bottom guide rails. The bottom wheels have a quick release mechanism which allows easy detachment for cleaning of the glass and the track. The door has an aluminum anodized frame all around that comes in two finishes: chrome and brushed nickel; the frame allows adjustments for out-of-plumb walls. Tub and shower models come only with clear glass panels (i.e. SHDR-1160726 – shower door; SHDR-1160586 – tub door).
The shower doors are 72" high and come in one 60" wide standard size that can be trimmed down to 56" if needed.
The tub doors are 58" high x 60" wide that can be trimmed down to 56" to accommodate smaller tubs.
Dreamline recommends, in order insuring long lasting life of the glass shower doors, to wipe them off after each use with a soft cloth. Rinse and wipe of the glass using either soft cloth or squeegee to prevent soap buildup. Never use abrasive cleaners and cleaning products that contain scoring agent because this may scratch the surface. Never use bristle brushes or abrasive sponges.
To assure a long lasting finish the owner needs to wipe off the metal parts after each use with a soft cloth. Never use abrasive cleaners or cleaning products containing ammonia, bleach or acid. If accidentally used, the surface needs to be rinsed as soon as possible to prevent finish corrosion. After cleaning the shiny finishes, they need to be rinsed thoroughly and wiped dry with soft cloth. When applying stainless steel cleaner or polish never use abrasive sponge or cloth, steel wool or wired brushes.
All Dreamline shower doors are available at Warehouse USA – http://warehouse-usa.com; they are on sale with free shipping throughout 48 contiguous states. For more technical information or if in doubt please don't hesitate to call 888-693-8066