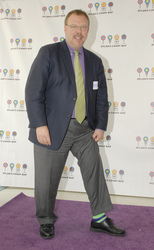 I'm honored to be a part of Cassidy's efforts to answer people's questions about epilepsy
Danville, CA (PRWEB) March 24, 2009
Pediatrician and author Dr. Alan Greene is known for wearing green socks 365 days a year, but starting this March, he'll be adding a splash of purple.
March 26 is Purple Day USA, an event founded by 10-year-old Cassidy Megan to increase awareness about epilepsy. Her grassroots initiative is now an international effort to encourage people to wear purple one day a year to support the challenges of people with epilepsy. Cassidy chose purple since lavender is the international color for epilepsy.
Cassidy and her mother are active members of the DrGreene.com community, and Dr. Greene feels strongly about helping families learn about the diseases and challenges that affect their kids. Dr. Greene joined celebrities including Paul Shaffer of the Late Show with David Letterman and Project Runway Season Five winner Leanne Marshall for the Purple New York Party in New York City earlier this month. He spoke at the event, even donning special green-and-purple striped socks for the occasion.
"I'm honored to be a part of Cassidy's efforts to answer people's questions about epilepsy," Dr. Greene said. "She helps kids like her know they're not alone."
About one in 10 people will experience at least one seizure during a lifetime, but people suffering from epilepsy have multiple seizures. Epilepsy affects more than 50 million people worldwide, including actor Danny Glover and singer-songwriter Neil Young.
"Before I started Purple Day, I was afraid to tell people about my epilepsy because I thought they would make fun of me." Cassidy wrote on her website. "I wanted to tell everyone about epilepsy, especially that all seizures are not the same and that people with epilepsy are ordinary people just like everyone else."
In honor of Purple Day, DrGreene.com will also be wearing a purple hue. "Education is the key to supporting people with epilepsy," Dr. Greene said. "We're all proud to wear purple on Purple Day to bring awareness to the cause."
Resources
Purple Day: http://www.purpleday.org Dr. Greene's Website: http://www.drgreene.com
About Dr. Alan Greene
Called the "Al Gore of pediatrics" by BabyTalk magazine, Dr. Greene is a clinical professor of pediatrics at Packard Children's Hospital at Stanford University and provides green parenting information on his website, http://www.drgreene.com. Founded in 1995, the site reaches more than a million parents every month. He is also the author of From First Kicks to First Steps: Nurturing Your Baby's Development from Pregnancy Through the First Year of Life (McGraw-Hill, 2004), The Parent's Complete Guide to Ear Infections (People's Medical Society, 1997), and a co-author of The A.D.A.M. Illustrated Family Health Guide (A.D.A.M., Inc., 2004).
Dr. Greene appears frequently on TV, radio, websites, and in newspapers and magazines around the world, including such venues as the TODAY Show, Good Morning America, Fox and Friends, NPR, The New York Times, the Wall Street Journal, USA Today, Time Magazine, Parade, Parenting, Parent, Child, Baby Talk, Working Mother, Real Simple, Better Homes & Gardens, Glamour and the Reader's Digest.
###