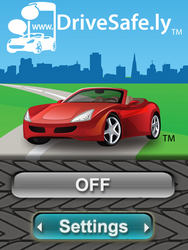 We have seen overwhelming demand for voice-enabled apps such as DriveSafe.ly and Caller ID Reader. We are excited to make this technology easily available to the mobile development community at large
San Francisco, CA (PRWEB) October 7, 2010
iSpeech®, creator of the DriveSafe.ly™, and Caller ID Reader™ mobile apps announces the launch of DriveSafe.ly™ 2.0, reading text (SMS) and email messages aloud and allowing voice response, hands free. iSpeech's award-winning anti-distracted driving app, DriveSafe.ly™, first launched one year ago. Since then, the first of its kind application has been used by over 6 million people and has read over one-quarter-billion messages to users. With DriveSafe.ly™ 2.0, iSpeech® hopes to reduce the danger created by texting while driving by allowing people to send and receive txt messages (SMS) and emails entirely by voice.
The DriveSafe.ly™ 2.0 technology provides a smooth user experience with human-sounding text to speech (TTS) and human quality automated speech recognition (ASR). Once activated, it is possible to communicate by sending and receiving messages without touching the phone. Once an incoming txt message is read aloud, the user can choose to replay the message, speak a response back to the sender or even call back the sender. DriveSafe.ly™ 2.0 is available for BlackBerry on BlackBerry App World™ with version 2.0 for Android and iPhone coming soon.
Additionally, iSpeech announced the opening of its text to speech (TTS) and automated speech recognition (ASR) APIs for mobile developers and content providers. The API speech enables mobile applications with human quality text to voice and voice recognition on any platform; specific SDKs for BlackBerry and iPhone are also available with Android and Windows to follow.
"We have seen overwhelming demand for voice-enabled apps such as DriveSafe.ly and Caller ID Reader. We are excited to make this technology easily available to the mobile development community at large," says Yaron Oren, iSpeech Chief Marketing Officer.
iSpeech® is a Sponsor at CTIA, October 6-8, 2010 at the Moscone West Center in San Francisco, CA. For more info, stop by the iSpeech® booth, Telecom Council Innovation Showcase 908E.
About iSpeech®
iSpeech (http://www.iSpeech.org) is a leading provider of cloud-based speech technology and mobile apps. Founded in 2007, the company began as a vision to help college students learn by enabling them to listen to text-based study materials. Today, businesses, organizations and consumers worldwide choose iSpeech for its high quality, scalable and easy to use text-to-speech (TTS), automated speech recognition (ASR) and voice to text solutions. iSpeech's flagship and award winning mobile app, DriveSafe.ly™, has read over a quarter billion text messages and emails aloud in real-time to over 6 million people. iSpeech® is a privately held company headquartered in Newark, NJ with offices in San Francisco and New York. iSpeech® and DriveSafe.ly™ are registered trademarks of iSpeech, Inc. © 2010 iSpeech, Inc. All rights reserved.
###