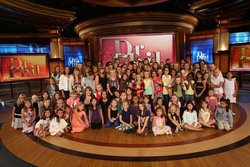 Los Angeles, CA (PRWEB) September 29, 2009
What's the best way to talk to your young daughters about teen issues? Find out Tuesday on a very special episode of DR. PHIL (check your local listings). For the first time in the show's history, the studio audience will be filled with girls ages 8-12. Almost nothing will be off limits as Dr. Phil discusses everything from boys to body image to bullying. Dr. Phil will be joined throughout the show by special guest Patti Criswell, American Girl author and expert. Criswell is the award-winning author of several American Girl titles, including, Stand Up for Yourself and Your Friends, a clinical social worker and adjunct professor of social work at Western Michigan University.
"Ask Dr. Phil and American Girl" airs this Tuesday, September 29th.
About The DR. PHIL Show:
The syndicated series, DR. PHIL, was created by Harpo Productions, and is produced by Peteski Productions in association with CBS Television Distribution. DR. PHIL is broadcast on over 214 stations representing 100% of the country. Since its debut in September 2002, the series has been ranked second among all daytime talk shows and consistently ranks among the Top Ten of all syndicated strips (Source: NSS Ranking Report).
###