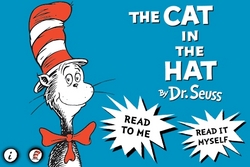 "We are excited to join forces once again with Oceanhouse Media to bring more of Dr. Seuss's beloved tales to the iPhone," said Susan Brandt, President of Dr. Seuss Enterprises
Encinitas, CA (PRWEB) February 12, 2010
Oceanhouse Media, Inc., launched today three new officially licensed iPhone Apps based on the beloved classic children's stories by Dr. Seuss. Two of the top selling children's books of all time, The Cat in the Hat and Dr. Seuss's ABC are now available as interactive eBooks in the App Store for $3.99 each. In addition, Oceanhouse Media announces Dr. Seuss Camera - The Cat in the Hat Edition, a unique and whimsical photo card maker, is also now available for $2.99.
Written by Dr. Seuss in 1957 and 1963 respectively, The Cat in the Hat and Dr. Seuss's ABC have been adapted for the first time to an interactive book format for the iPhone and iPod Touch. The eBooks combine the beautiful original artwork of the books with innovative features that promote reading in young children, including highlighted picture / word associations, professional narrations and custom background audio.
The Dr. Seuss Camera – The Cat in the Hat Edition app is now available in the Photography category and allows users to create fun photo cards using the iPhone's built-in camera or Photo Library. Users can pose with characters or choose to become the Cat in the Hat, the playful Thing 1 or Thing 2, or even Sally or her brother. Cards can be personalized with comical and colorful stamps, borders and classic Seussian text. Cat in the Hat Cards can be e-mailed to friends and family or saved to the Photo Library.
"We are excited to join forces once again with Oceanhouse Media to bring more of Dr. Seuss's beloved tales to the iPhone," said Susan Brandt, President of Dr. Seuss Enterprises. "Dr. Seuss created The Cat in the Hat and Dr. Seuss's ABC to improve literacy in elementary schools, and now Oceanhouse Media continues this tradition by developing innovative features only possible in interactive eBooks that both parents and children will love."
Available for both the iPhone and iPod Touch, these apps will also be available for the iPad. "We are thrilled about Apple's recent announcement of the iPad," said Michel Kripalani, President of Oceanhouse Media. "We are looking forward to having most of our 75+ apps available for the iPad, starting with our Dr. Seuss products. We believe that the iPad will be a revolutionary device for children's literature and learning."
In December of 2009, Oceanhouse Media released its first three Dr. Seuss titles including Grinchmas!, the #1 Kids Game on the App Store for the holiday season (& just announced at Macworld 2010 as an Honorable Mention in the 2009 Best App Ever Awards), How the Grinch Stole Christmas! eBook and Dr. Seuss Camera - The Grinch Edition.
For more information on these products and direct links to the App store, please visit the Dr. Seuss page on the Oceanhouse Media website.
###