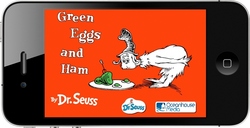 We are excited to honor the 50th anniversary of Green Eggs and Ham by making these products available at an incredible price for a limited time.
Encinitas, CA (PRWEB) September 13, 2010
Oceanhouse Media, Inc. is dropping the price of their of award-winning Dr. Seuss iPhone / iPad / iPod Touch apps by 50% starting Monday, September 13th. This is a limited time offer in honor of the 50th anniversary of the children's classic, Green Eggs and Ham.
The critically acclaimed book by Dr. Seuss, Green Eggs and Ham was first published in August 1960 and is the #4 best-selling, English-language children's book of all time. Dr. Seuss's publisher (Bennett Cerf) wagered $50 that the author could not write a book using only fifty words. Dr. Seuss won the bet.
Oceanhouse Media's Dr. Seuss apps currently available in the App Store are:

Green Eggs and Ham eBook
The Cat in the Hat eBook
Dr. Seuss's ABC eBook
One Fish Two Fish Red Fish Blue Fish eBook
Yertle the Turtle eBook
Hop On Pop eBook
The Lorax eBook
How the Grinch Stole Christmas! eBook
Oh, the Places You'll Go! eBook
Gertrude McFuzz eBook
The Big Brag eBook
Dr. Seuss Camera – The Cat in the Hat Edition
Dr. Seuss Camera – The Grinch Edition
Up With A Fish! kid's game
Lorax Garden kid's game
Grinchmas! kid's game
Dr. Seuss Senders card deck
Each interactive eBook combines the beautiful original artwork of Dr. Seuss with innovative features that promote reading in young children, including highlighted picture / word associations, professional narration with word highlighting and custom background audio. The apps have won numerous awards from Parent's Choice Foundation and Children's Technology Review and have received critical acclaim from users and journalists worldwide.
Dr. Seuss Camera apps allow users to create unique and whimsical photo cards using the iPhone's built-in camera or Photo Library. Users can pose with or choose to become characters from the books. Cards can be personalized with comical and colorful stamps, borders and classic Seussian text and then e-mailed to friends and family or saved to the Photo Library.
Three addictive Dr. Seuss games are available. Up With A Fish! is a fun kid's stacking game in which players help the Cat in the Hat stack falling objects atop his tower of fish bowls. Lorax Garden allows kids to design and build their own trees and flowers in real-time 3D in order to repopulate the world's Truffula tree forests. And Grinchmas is a fun, casual game of skill and accuracy, which topped the charts in the App Store last holiday season.
Finally, the Dr. Seuss Senders app contains 100 cards with fun Seussian quotes and sayings that can be sent to anyone in need of inspiration, cheering up or just a smile for the day. Greetings from categories such as love, get-well, congratulations, etc. can be saved to your photo library or emailed to your little ones, grandkids, co-workers, parents, teachers and friends. For less than the price of a single, paper greeting card users get the entire set of 100 Dr. Seuss Senders in a single app.
"We are excited to honor the 50th anniversary of Green Eggs and Ham by making these products available at an incredible price for a limited time. It is our goal to deliver apps that keep with Dr. Seuss's tradition of learning, reading and whimsical fun," said Michel Kripalani, President of Oceanhouse Media. "Keep your eyes out for more of Dr. Seuss's beloved children's stories, games and activities for the iPhone, iPod Touch and iPad."
For more information on these products and direct links to the App store, please visit http://www.oceanhousemedia.com/drseuss.
###