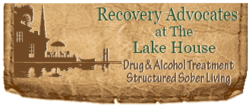 We believe that you don't have to stop your life to save it
Westlake Village, California (PRWEB) March 20, 2013
The Lake House is located in the Santa Monica Mountains on the shores of Lake Sherwood. This treatment facility is known for its innovative, holistic treatment methods in working with alcoholics and drug addicts. Founded in 1943, Lake House has always offered state of the art therapy, counseling, medical treatment and support, and now they are offering a complete drug detox program to compliment their services from initial contact, to a truly sober lifestyle. Recovery Advocates at Lake House have stated that drug and alcohol detox and treatment are available as ancillary services within their sober living model.
"In addition to sober living, we offer a complete host of drug and alcohol treatment modalities including intervention, counseling, individual and group therapy, relapse prevention and aftercare" Stuart said.
The Lake House Sober Living has always offered a program like no other. Their non-institutional, family-style setting offers comprehensive medical and psychiatric evaluations, a cutting edge neuro-imaging and neuro-development program, medication management, individual and group therapy, 12-step programs and daily meetings, relapse prevention counseling and long-term support to promote a sober lifestyle. They also offer boating and fishing on Lake Sherwood, a full gym membership, home cooked meals, and unlike any other programs in the area, they are pet friendly. This all combines to help clients begin a lifelong recovery program that can help them maintain sobriety without feeling like they have stopped living.
"We believe that you don't have to stop your life to save it. Our staff is made up of recovering alcoholics and drug addicts who have devoted their lives to helping others suffering from this cunning disease" Stewart said.
With the addition of a full array of drug and alcohol detox services, The Lake House can implement treatment options and begin setting goals for it's clients immediately. Obtaining and maintaining a sober lifestyle involves a major change in attitude and habits, and requires an entirely new support system. Starting and staying with a treatment program from that first phone call to a new, drug and alcohol-free lifestyle is one's best chance of achieving a full recovery from alcohol and/or drug addiction.
To find out more about the full range of services offered by The Lake House and Recovery Advocates U.S.A., including their new drug and alcohol detox program, visit their website: http://LakeHouseSoberLiving.com, call 1-877-762-3707 or you can email Stuart directly at: Stuart.RecoveryAdvocates(at)Gmail(dot)com
###