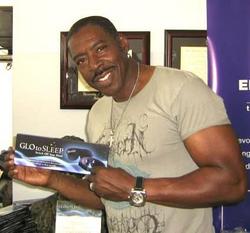 We are pleased to be asked to donate the GLOtoSLEEP™masks to this Superbowl XLIII charity event
Santa Cruz, CA (PRWEB) January 28, 2009
Today, GLOtoSLEEP.us announced its participation in the 2009 'Taste of the NFL' at Superbowl XLIII in Florida, on January 31st. At 500-dollars-a-plate, this star-studded annual event is a fixture the eve before the Superbowl and is even more difficult to get into than the Superbowl itself. It also features a silent auction that, to date, has donated millions of dollars to feed the hungry.
GLOtoSLEEP.us is donating a quantity of its flagship product, the GLOtoSLEEP™ mask, for both the silent auction spa package, as well as to all the players, their wives and the VIPs in attendance. "We are pleased to be asked to donate the GLOtoSLEEP™masks to this Superbowl XLIII charity event," commented Peter Mackeonis, a spokesperson for GLOtoSLEEP™, "As we are not only assisting a number of worthy charities, but also have the opportunity to introduce our unique drug-free sleep product to this year's giants of the pro football world."
Manufactured in California, from breathable, hypoallergenic materials and weighing less than an ounce, GLOtoSLEEP™masks are no stranger to celebrity events. They premiered during the 2008 OSCARS® and many of Hollywood's elite prefer this natural sleep remedy over the prescription alternatives. According to Mackeonis, "Whether it's television or movie celebrities, news anchors, or people behind the scenes, the GLOtoSLEEP™ can be found in some of the best bedrooms in tinsel town, although Samuel L. Jackson prefers to use his GLOtoSLEEP™ on the plane." Many celebrities have given testimonials for GLOtoSLEEP™.
The GLOtoSLEEP™ is recommended by sleep professionals and is available through many of the internet's best sleep sites and Etailers. Ideal for both intermittent and long-term sleep problems, they are so soft and lightweight; they would be ideal for spas, recovery centers, hospitals, nursing homes and the military.
Founded by an engineer with a sleep problem, the aim of the company behind GLOtoSLEEP™ is to replace the sleeping pills found in medicine cabinets across the country, with its "natural drug-free alternative." "Mackeonis commented, "The National Sleep Foundation estimates that as many as one third of Americans suffer from sleep-related issues," continuing, "And, as anyone who has ever taken prescription sleeping pills knows, sleep comes at a price. Many of the side-and-after-effects of sleeping pills, which can include, memory loss, headaches and dizziness, and, ironically tiredness, are often worse than the lack of sleep. Studies also show that the habitual taking of sleeping pills can shorten a person's life by as much as [ ten percent]."
Sleep issues are so prevalent in society that GLOtoSLEEP™ has had little difficulty in publicizing its natural sleep remedy, since GLOtoSLEEP™ was featured by ABC Eyewitness news report in December, which quadrupled their web sales overnight. Now GLOtoSLEEP.us receives regular visits from doctors and pharmaceutical companies from around the world, and their product is now available in Europe, South America, Asia and Australasia.
GLOtoSLEEP™ is available direct from glotosleep.us or from the following quality Etailers: Drugstore.com, Amazon.com, livescience.com and ToolsForWellness.com
###