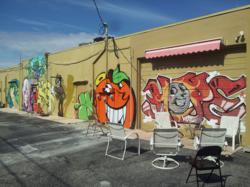 Miami, Florida (PRWEB) June 03, 2013
Florida drug rehab and alcohol treatment center, Into Action partnered with Miami graffiti artists yesterday who helped to "tag," or spray paint as it is formally known, the back wall of the facility. The back wall of Into Action Treatment has many beautiful pieces of graffiti art on it and as of today, there is one more central piece to the wall completed. The wall consists of many different animals, including fish, monkeys, and a swan. There are also fruits and other colorful drawings all of which sprawl the back wall and blend with doors and power meters. Today, the wall was adorned with a new tree of life, integrating the other pieces previously on the wall.
The 2 Miami graffiti artists who tagged the wall go by the names Arive aka Seam and Quake. Arive is a Miami graffiti legend who has been tagging Miami since 1983 with a strong focus on the Wynwood area. He is known for a nontraditional and unique style of layering the spray paint textures. His wild imagination helps him stand apart from your typical graffiti artist. Arive is a true legend in the Miami street-scape artist and has been called as a Style Master General Dondi. Quake is also famous for his layering and has been teaming with Arive for many years on local Miami graffiti projects. Quake is part of the Miami Style Graffiti Crew. The goal of Quake and Arive was to bring together different elements on the back wall of Into Action Treatment and create a unified piece of art.
Into Action Treatment is a small 24 bed coed Florida drug rehab center located in Boynton Beach. Into Action is a very unique center, which focuses on long term recovery for addicts and alcoholics. Most treatment centers in the industry are 28 days, however Into Action is a minimum of 45 days, while most clients who complete the program end up staying over 90 days, even if their insurance money has run out. For more information on Into Action Treatment and how they can help those affected with addiction, visit their website at http://www.intoactiontreatment.com, or call their 24 hour hotline at 1-855-933-6732 for free addiction advice and treatment options.