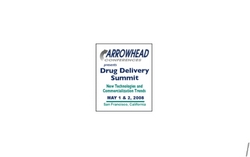 Minneapolis, MN (PRWEB) February 26, 2008
Arrowhead Publishers and Conferences is proud to announce that it is hosting its 2nd Annual Drug Delivery Summit: New Technologies and Commercialization Trends in San Francisco, California on May 1st and 2nd, 2008.
Background and Focus:
As competition in the pharmaceutical marketplace grows, companies are increasingly looking towards the drug delivery industry to maximize revenues and combat generic competitors. The drug delivery industry has in recent years become a key partner for pharmaceutical companies in their efforts to maximize the patent lives of successful products. Drug delivery companies not only stand to benefit from patent expiry by providing their reformulation services to pharmaceutical companies, but also by producing their own versions of branded products with improved delivery mechanisms.The current value of the drug delivery market has been estimated at over USD$65 billion.
Arrowhead's 2nd Annual Drug Delivery Summit will provide a forum for leaders from both the drug delivery and pharmaceutical industry to discuss the challenges and opportunities facing the development of new drug delivery technologies and therapies utilizing cutting-edge drug delivery technologies. This conference will not only assess new drug delivery systems and technologies, but will provide instruction and case studies on successful licensing and deal-making in this sector.
With sessions covering both the technical and business sides of the industry, this conference has been organized with both the scientist and business professional in mind.
Key themes of this conference will include:

An examination of key emerging technologies in the following areas:
injectable
ultrasonic
electroporation
inhalable
transdermal
transmucosal
nanotechnology
controlled release
RNAi delivery
and other modes of drug delivery
Keys to the formation of successful alliances
Unlocking the door to delivery of macromolecules
Mapping of bioavailability as a key to successful formulation
Overcoming first pass metabolism and absorption window problems
Patent and IP protection in drug delivery
Considerations and best practices in contract manufacturer-drug delivery partnerships
Trends in tumor and organ targeting
Making the deal - structuring mutually beneficial licensing arrangements
Speakers at this event include:
Philip G. Green, Ph.D., Director Alternative Delivery Systems, BD-Medical Pharmaceutical Systems
Yael Weiss, MD, Ph.D, Director Licensing and External Research, Merck & Co.
Tatyana Naranda, Director Business Development, Alexza Pharmaceuticals
Dr. Ron Forster, Director Drug Product & Device Development, Amgen
Philip G. Green, Ph.D., Director Alternative Delivery Systems, BD-Medical Pharmaceutical Systems
Yael Weiss, MD, Ph.D, Director Licensing and External Research, Merck & Co.
Allen Downs, Sr Executive Director Licensing & Business Development, Purdue Pharmaceuticals
Dr. Claire Evans, Director Protein Therapeutics, Ichor Medical Systems
Mark Matthews, VP Commercial Affairs, Javelin Pharmaceuticals
Meghan Fitzgerald, Chief Business Officer, Vion Pharmaceuticals
Dr. Peter Scholes, VP Pharmaceutical Sciences, Pharmaceutical Profiles Ltd.
Ed Cannon, Ph.D, CEO, Aerovectrx
Dr. Verne Cowles, Sr. Director of Preclinical Studies, Depomed
Andrew Forman, Sr Analyst & Managing Director, WR Hambrecht
Judith Kornfeld, Vice President of Business Development, TransPharma Medical
Please visit our website at http://www.arrowheadpublishers.com to view the complete agenda and list of speakers.
Who should attend:
Individuals from the following industries:

Drug delivery companies
Pharmaceutical companies
Biotechnology companies
Specialty pharmaceutical companies
Medical device manufacturers
Investment and capital markets community
Individuals from the following areas/departments will greatly benefit from attending:

Business development
Executive management
Corporate development
Technology assessment
Commercial development
New product planning
Drug delivery scientists
Pharmaceutical science
Licensing
Intellectual property
Outsourcing
Strategic planning & development
Scientific / technology development
Marketing
R&D
as well as individuals from
Investment banks and venture capitalist firms
Academic institutions
Consultancies
For more information about this conference, please visit http://www.arrowheadpublishers.com/conferences/drugdelivery2008/ or contact us at 312-244-3703 or arrowheadconferences @ arrowheadpublishers.com
To enquire about sponsorship and/or exhibiting at this conference please contact marketing @ arrowheadpublishers.com
###