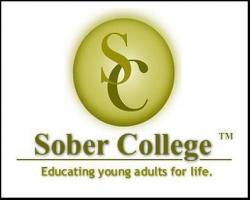 The addition of Dr. Pelicci is a true reflection in the quality of staff present at Sober College. We couldn't be happier that we found such a unique and gifted individual that has so much to offer our students. We are truly lucky to have her with us
Woodland Hills, CA (PRWEB) February 12, 2008
Sober College proudly announced the addition of Dr. Gabrielle Pelicci, as Academic Director. Coming from a diverse background, Dr. Pelicci's experience, insight, and commitment truly compliment Sober College's unique philosophy.
Dr. Pelicci received her Bachelor's degree in Psychology, a Masters degree in Education, from Teachers College Columbia University, and a Doctoral Degree in the Humanities, with a focus on Integrative Medicine. With a background in distance education and e-learning, Dr. Pelicci brings a modern approach to Sober College's Current Educational Model. Buzzing with ideas and plans for the New Year, Dr. Pelicci explains how she plans to strengthen Sober College's academic center.
"The idea is to make the learning environment more dynamic and engage the students in educational activities that are stimulating and exciting. I'd like to incorporate diverse learning applications such as audio and video technology and experiential activities to address their different styles of learning. Students will also be encouraged to be creative in their assignments and utilize things like photography or music in their presentations. I want them to be energized by the work that they are doing," begins Dr. Pelicci. "I think that students in recovery are open to change and exciting to work with. I find addicts to be high achievers, intelligent, and extremely creative. I am thrilled to give them that extra incentive to reach above and beyond their current goals."
During her undergraduate studies, Dr. Pelicci worked as an SAT and Academic Tutor, a Counselor for children and adults with developmental disabilities, and a Communications Assistant at Teach for America. After finishing her Masters Degree, she worked as Special Assistant to the Director of the Office of Educational Technology at the US Department of Education in Washington, DC where she collaborated with the educational technology team to create the National Educational Technology Plan for the US Public School System. Since 2001, she has been working as an independent consultant and instructor for high-end treatment centers, educational institutions, non-profit organizations, wellness centers and private clients.
"The addition of Dr. Pelicci is a true reflection in the quality of staff present at Sober College. We couldn't be happier that we found such a unique and gifted individual that has so much to offer our students. We are truly lucky to have her with us," stated Loree Cohen, LCSW, and Executive Director.
About Sober College:
Sober College, headquartered in Southern California, is a small private institution providing alcohol and drug treatment environments for young adults age 17 to 26. The Sober College curriculum builds core competencies in life skills, employment, academics, emotional well-being and fitness. For further information visit our website at http://www.sobercollege.com or call 800-465-0142.
###