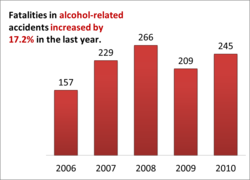 It's our hope that this study will show the great need for better—and more—drunk driving prevention programs.
Oklahoma City, OK (PRWEB) December 21, 2011
After enjoying a substantial drop in alcohol-related traffic fatalities in 2009, a study compiled by McIntyre Law, P.C., shows the number of these deaths in Oklahoma rose again in 2010.
McIntyre Law P.C., an Oklahoma personal injury law firm, created a report on drunk driving statistics that shows an increase in drunk driving fatalities in Oklahoma from 2009 to 2010. This is particularly disappointing after a decrease of 57 deaths was recorded from 2008 to 2009. Interestingly, although the number of fatalities increased, the number of alcohol-related traffic accidents actually decreased statewide. As was the case last year, and the five years before, Oklahoma and Tulsa counties reported the highest number of alcohol-related traffic deaths during the year the report covers.
McIntyre Law compiled the report by collecting and analyzing statistics provided by the Oklahoma Highway Safety Office (OHSO), the National Highway Safety Administration (NHTSA), and the Fatality Analysis Reporting System (FARS). The report includes graphs and maps broken out by county to illustrate the pervasiveness of Oklahoma car accidents, and how alcohol influences them.
Some of the report's key findings include:

The number of drunk driving fatalities in Oklahoma rose 209 in 2009 to 245 in 2010.
40% of drunk driving accidents occurred in rural areas with poor or no lighting.
Oklahoma and Tulsa counties saw the most fatalities from 2006 to 2010, with 117 and 110, respectively.
Roger Mills County had the highest rate of fatalities with 174.62 deaths per 100,000 residents, while Harmon County once again had zero drunk driving fatalities from 2006 to 2010.
Oklahoma drunk driving is also the cause of nearly three times as many deaths of men as women.
McIntyre Law hopes that by providing this report, Oklahomans will become more aware of the devastation caused by drunk driving, and will take steps to prevent it.
"Because we're a personal injury law firm, we often see the tragedies caused by drunk driving as many of our clients have experienced injuries or the deaths of loved ones as a result of it," says Noble McIntyre, senior partner and owner of McIntyre Law. "One of our goals is to increase drunk driving awareness in Oklahoma, and to encourage the state to do the same. It's our hope that this study will show the great need for better—and more—drunk driving prevention programs."
McIntyre Law, P.C. serves clients across the state of Oklahoma who have suffered personal injury resulting from the negligence of another. For more information about Oklahoma car accidents and drunk driving fatalities over the past decade, please visit: http://www.oklahoma-law.com/
###