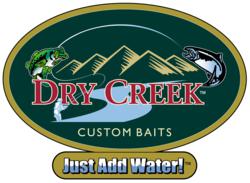 Murtaugh, Idaho (PRWEB) November 02, 2011
In October,Dry Creek Outfitters' owner Brad Perkins traveled to Somerset, Kentucky to attend the Pitman Creek Wholesale Show. Dry Creek Outfitters traveled to the wholesale show as a dealer as well as a vendor. A dealer is a store that sells products to Pitman Creek Wholesale, and a vendor is a store that sells to other stores visiting the wholesale show. The advantage in attending the Pitman Creek Wholesale Show is that each vendor gets to look at the new and innovative products with special pricing that the other vendors have to offer.
Brad Perkins noted that out of all the wholesale shows he attends, Pitman Creek Wholesale ranks the highest. "Every day of the show James Coffey, Pitman Creek President, and Dave Tacket, Pitman Creek General Manager, were making sure the needs of the venders and the dealers were met," said Brad. "Pitman Creek's staff knew all of their guests' names and treated them like family."
According to Pitman Creek's website they specialize in the bass market, providing its dealers with leading edge products, hard to find special color items, and proven favorites. Pitman Creek also stocks over 14,000 items from over 200 vendors.
Due to recent overwhelming response to Dry Creek Outfitters' products, Pitman Creek will soon be adding a variety of Dry Creek Custom Baits' tubes, money grubbers, drop shot crawdads, platypus, and finesse worms.
While attending the show, Dry Creek Outfitters was able to pick up a few more accounts. The new accounts cover several states. In Tennessee Dry Creek Custom Baits will be sold in Bluff City's Watson's Marine and Jerry's Bait Shop in Rockwood. Other new accounts include Bassmasters Sport & Tackle in Seymour, Indiana, and Twin Lakes Fish and Game in Monticello, as well as Honey Creek Tackle in Bargersville, Indiana. In West Virginia three locations will be featuring Dry Creek Custom Baits; PC Bait & Tackle in Hinton; A&E Bass Barn in Whitesville, and Sportsmart in Charleston. In Glasgow, Kentucky, Barren Outdoors. Rock Springs Tackle in Harrison, Arkansas will also be selling Dry Creek Baits. Murphy Building Supply in Murphy, North Carolina, Tri-State Bait & Tackle Shop in Mineral Bluff, Georgia, and finally Elliott's Military Surplus in Radford, Virginia.
Each store will be stocked with the Dry Creek Custom Baits suited for each area's fisheries.
Dry Creek Custom Baits is excited about serving this newly expanded clientele.
###