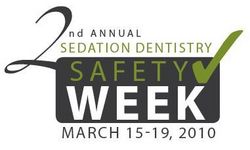 This day, the first day of 2010's Dental Safety Time, represents our profession's unwavering commitment to constantly freshen and review every aspect of our safety training.
Seattle, WA (Vocus) March 15, 2010
Like clockwork, more than 40,000 dental professionals throughout the country are being encouraged to spend today – the first weekday of daylight savings time – engaging in safety drills and reviewing all of their equipment, supplies and procedures to maximize patient safety.
Today marks the beginning of Dental Safety Time (DST), also known as the 2nd Annual Sedation Dentistry Safety Week. Each year DST encompasses five days dedicated to ensuring patients that sedation dentistry, a proven and increasingly popular method of receiving most dental care procedures, is not only comfortable and anxiety-free, it is also extraordinarily safe.
Properly trained sedation dentists and their staffs make safety their top priority all year. Nonetheless, the dental professions, including hygienists and office staff, are asked to mobilize one week each year to emphasize their total dedication to safety.
Dr. Michael Silverman, national chairman of the 2010 Sedation Dentistry Safety Week, kicked off this year's DST events with the announcement that the number of adult dental patients who have received safe and anxiety-free sedation treatment in the United States is now estimated to have surpassed the 2 million mark.
"Thanks to the unceasing efforts of so many of our 20,000-plus specially trained dentists and their dedicated oral health teams, sedation dentistry has become one of the safest and fastest-growing methods of providing relief from anxiety to nervous dental patients," says Dr. Silverman.
The veteran dentist is one of the world's leading educators of sedation dentists and a co-founder of DOCS Education. Dr. Silverman is also the creator and host of the annual Sedation Dentistry Safety Week, first begun in March 2009.
As Dr. Silverman explains, when properly trained dentists and their staffs follow the protocols established by DOCS Education and standards recommended by the American Dental Association, sedation dentistry has consistently allowed dentists to deliver a broad range of oral health care with unmatched safety and comfort. (DOCS Education training courses for dentists and their staff meet or exceed safety standards established by individual state dental boards.)
"This day, the first day of 2010's Dental Safety Time, represents our profession's unwavering commitment to constantly freshen and review every aspect of our safety training," Dr. Silverman says. Among the activities scheduled for each participating dental office is to complete DOCS Education's "7-Step Sedation Dentistry Safety Checklist: A Review of Protocols, Equipment and Supplies."
Safe dental sedation protocols involve a commitment by each and every member of a dental practice, from the receptionist who first fields an inquiry from a hesitant patient to the dental hygienists and specially trained dentists who work directly with patients, to the dental office staff member who escorts all patients to their cars and designated drivers following treatment.
"Among the many extra steps our dentists are taught to take is a thorough medical history of each of their patients so that they can customize a specific treatment regime that is appropriate and safe," Dr. Silverman explains. "Although the vast majority of adults are great candidates for sedation dentistry, including those with many non-dental medical conditions, our dentists are instructed to turn away a portion of those seeking sedation dentistry rather than take even a small risk with their health."
All dentists who offer oral conscious sedation services to their patients, whether or not they were trained by DOCS Education, are encouraged to actively participate in DST and the second annual Safety Week.
Dentists who would like a free copy of DOCS Education's "The 7-Step Sedation Dentistry Safety Checklist" or any additional information on sedation dentistry safety and safety courses, are invited to phone 877-325-3627 or visit the professionals' website at http://www.docseducation.com.
Consumers with questions about fear-free, anxiety-free sedation dentistry should call 888-858-7972 or visit the patients' website at http://www.sedationcare.com.
The theme for tomorrow, Day Two of Dental Safety Time (DST), is "Myth Busting: Debunking the 7 Most Common Misconceptions About Safe Sedation Dentistry."
###