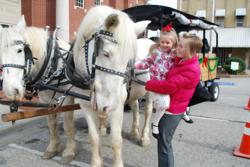 ...a horse-drawn carriage ride is a magical experience that will never be forgotten
Jasper, IN (PRWEB) November 29, 2012
Whether looking for a festive family experience, a unique Christmas gift, a relaxing weekend, or just a way to walk off some of Grandma's pumpkin pie, Jasper's O'Tannenbaum Days is bursting with holiday fun November 30 and December 1 – 2, 2012.
A monumental Colorado Blue Spruce decorated with giant red bows will greet visitors on the Dubois County Courthouse square. Next to the beautiful community Christmas tree is Santa's Special House. Bring kids, grandkids and a camera, for Santa will be available to hear all of their Christmas wishes on Friday evening 5 – 8 and Saturday & Sunday, 12 – 3.
Then, check off that Christmas list with one-of-a-kind gifts that show friends and loved ones how special they truly are. More than 45 local businesses will be open to accommodate shoppers and offer sweet treats and goodies, games, giveaways, and special performances. Artists and artisans will demonstrate their skills of painting, glass-blowing, wood-carving, pottery, quilting, butter-churning, and more.
Of course, the nostalgic holiday event would not be complete without the clopping of hooves. No, not reindeer, but horses. Free carriage rides will be offered in front of City Hall on Friday evening from 5:30 – 8, Saturday afternoon from 12 – 4, and Sunday from 12 – 3. For those who prefer charming Christmas traditions, a relaxing tour of town via transportation, or just a chance to snuggle up with that significant other, a horse-drawn carriage ride is a magical experience that will never be forgotten.
Several other sites of interest are included in the weekend festivities. An Artist Studio Sale, sponsored by the Jasper Arts Center, will be held at the Jasper Train Depot, located at 2nd & Jackson Steets on Saturday from 9 – 4 and Sunday 12 – 4. Admission is free. The Krempp Gallery at the Jasper Arts Center will also be open over the weekend. Plus, a performance of Babes in Toyland will leave guests humming all the way home. Tickets are available by calling 812-482-6866. Also, the majestic and historic St. Joseph Church will offer tours at 7 p.m. Friday and 2 p.m. Sunday in celebration of the 175th anniversary of St. Joseph parish.
A visit to Dubois County Museum at 2704 Newton Street is also a must for a memorable cultural experience. Peruse local history and German artifacts, take a family photo shoot with Santa, stand in awe at the display of Christmas trees decorated by local designers, and nourish the spirit with violin and piano music. The Strings will perform at 2 p.m. on Saturday, while Santa is available 1 – 4. Then, Sunday at 1:30, Sue Laney's piano students will entertain guests.
In addition, the American Legion Post 147 and auxiliary will sponsor the 75th Annual Community Christmas Party on Sunday at 12:30 at the Jasper Middle School Gym. After leaving the party, don't forget to stop by and visit with Santa once more. The Jasper Public Library is offering storytime and singing with Santa from 2 – 3 p.m. on Sunday.
Finally, don't forget a visit to the Dubois County Humane Society at 426 Wernsing Road during the celebration to adopt that special pet for Christmas or donate to the Wish Tree. The Open House is Saturday and Sunday from 11 – 4. Refreshments will be served.
"O Tannenbaum" ("O Fir Tree") is a traditional German folk song that became associated with the Christmas tree and sang as a Christmas carol in the early 20th century. Therefore, the Jasper Downtown Business Association thought it an appropriate name for the Christmas event that began in 1998 to celebrate local businesses, artists, and the holiday season in a community proud of its German heritage.
Coordinator Nancy Eckerle, Executive Director of the Jasper Chamber of Commerce, said the O'Tannenbaum Days celebration is "centered around the Arts with a focus on local artisans and crafters demonstrating and selling their work." So come out and support local businesses, artists, and community spirit and unity.
Maps and brochures for a complete list of activities are available in the outside rack at the Jasper Chamber of Commerce on 302 W. 6th Street in Jasper. For more information on Jasper's O'Tannenbaum Days or other Dubois County events, contact the Dubois County Visitors Center and Tourism Commission by phone at 800-968-4578, by email at info@visitduboiscounty.com, or visit their at http://www.visitduboiscounty.com.