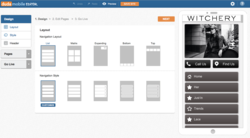 "We listened to our customers' needs and realized we had to simplify the building process even more and bring all the platform's powerful tools up to the surface. The whole experience has been made a lot more intuitive."
Palo Alto, CA (PRWEB) February 28, 2013
DudaMobile, the leading do-it-yourself mobile website solution for small businesses, has now released a new version of its popular mobile website builder. This new version of the DudaMobile platform, which supports over 3 million sites, makes its even faster and easier to create a mobile version of your existing website.
"We are very excited about this new version of our mobile website builder," said Dennis Mink, CMO of DudaMobile. "We listened to our customers' needs and realized we had to simplify the building process even more and bring all the platform's powerful tools up to the surface. The whole experience has been made a lot more intuitive."
In addition to aesthetic and usability changes, visitors to DudaMobile will notice a few things right away. First, the building process has been condensed down to just three steps, shortening the time it takes to publish a website. Second, a new tool has been placed into the platform called "Add a Page." This allows users to create a new page on their mobile site, even if it isn't found on the corresponding desktop website. A page added using this tool can be created entirely from scratch or through the use of pre-made templates. Finally, new backgrounds have been added into the platform allowing users to further customize their mobile sites.
To learn more about Duda's new mobile website builder, or the benefits of creating a mobile website for your business, visit http://www.dudamobile.com.
About DudaMobile
DudaMobile is a do-it-yourself mobile website solution that gives small- and medium-sized businesses a fast, simple and affordable way to build a mobile presence. Founded in 2009, DudaMobile offers a patented web-to-mobile platform that converts a desktop website into a mobile optimized site and is used by enterprise partners, agencies and small businesses. DudaMobile also offers managed mobile advertising solutions and custom-built mobile websites. The Company, based in Palo Alto, California, currently hosts more than three million mobile-friendly websites on its platform.