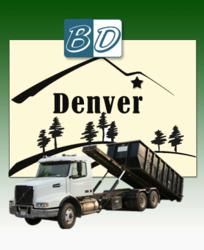 Denver, Colorado (PRWEB) March 21, 2013
Budget Dumpster, a national company specializing in dumpster rentals, now services the city of Denver, CO. The company aims to establish itself as an affordable alternative for disposing of common forms of commercial and residential waste in the Denver area.
Budget Dumpster currently offers its trash pickup service to residents of Denver and various suburbs of the city within Denver County. Serviced suburbs include Wheat Ridge, Greenwood Village, Welby, Aurora, Englewood, and Applewood, CO. The company will expand this service area over time to incorporate additional counties that currently fall outside of their operational area.
The company's decision to expand into Denver was driven in part by the city's large population. With over 600,000 residents, it ranks as the 23rd most populous city in the United States. The city's large population of residents, coupled with the even greater number of people living outside of the city, creates a strong potentiality of acquiring some of Denver's homeowners as customers. The city's commercial sector is also a boon for the company's dumpster rental service in Denver. The local economy is heavily diversified, but with significant interests in construction and manufacturing, two of the largest industries that utilize roll-off containers.
The expansion of the company's dumpster rental services to Denver is part of a long-term plan to establish competitive disposal services in all major cities across the country. The company competes with other trash haulers through lower than retail pricing and a high standard for customer service. The services offered in various cities are accomplished through partnerships with regional trash haulers. These partnerships enable the company and the haulers to negotiate lower prices for their offered roll-off dumpsters. However, all orders are handled by Budget Dumpster and are received exclusively via telephone to provide a direct interface between the company and its customers. Each of the company's service representatives have first-hand experience in the waste management industry, allowing them to configure the right set of roll-off dumpsters to meet the needs of their customers.
The company's service is based on renting "roll-off" dumpsters. These are large waste containers that are designed to be transported via specialized trucks. The trucks feature either mechanical winches or hydraulic arms, depending on the model, that can lower and lift the dumpsters as desired. These waste containers vary in size, with most ranging between 10 and 40 cubic yards. These various sizes allow the company to provide waste disposal services for a wide range of clients, including private contractors and homeowners. Common applications include building construction, demolition debris removal, home/office cleanouts, as well as landscaping work. Each dumpster is provided on condition that the customer uses it for a specific type of waste. The most common types of waste are construction debris and municipal solid waste, collected from both residential and commercial areas. These two types of debris cannot be mixed inside a dumpster as they must be disposed of in separate waste management facilities.
The company utilizes several different waste processing facilities in the Denver area; including transfer stations, recycling centers, and common landfills. Transfer stations allow waste hauling companies to minimize their costs thanks to their close proximity to highly-populated areas. This translates to lower fuel consumption, which is one of the largest associated costs of doing business in the waste disposal industry. All of the waste disposed of through Budget Dumpster's service is handled according to the best practices of the industry. Many of these practices are devised and implemented by the Environmental Protection Agency, or E.P.A., to ensure that standards for waste collection and disposal are met by both private and public haulers.
About Budget Dumpster
Budget Dumpster LLC has been operating as an affordable waste removal service for over five years. The company currently offers dumpster rentals in 35 states, including Washington, D.C. Future plans for the company include establishing presences in all fifty states, as well as all major cities within the United States. Budget Dumpster continues to expand its business into newer markets while maintaining its stringent standards for customer service and quality roll-off dumpsters.