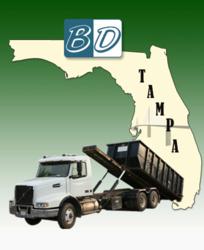 Tampa, FL (PRWEB) March 28, 2013
National roll-off dumpster rental company, Budget Dumpster LLC, has added Tampa, FL to its rapidly expanding service areas. The company is marketing their new dumpster rental services to both residential and commercial users within Hillsborough and adjacent counties. This new addition cements the company's presence in the Sunshine State, with services already up and running in Orlando and Miami. The company's expansion into these large metropolitan areas will help support their future plans for providing state-wide dumpster rental services.
Budget Dumpster's Florida operations, including their new Tampa services, are the result of strategic partnerships with several local waste haulers. The company leverages its knowledge of the waste management industry, including its own local market research, to increase dumpster sales in the cities in which it operates. Their partnered haulers fulfill the orders, benefitting from the increased volume of sales. These partnerships enable both the company and its haulers to increase their visibility in the marketplace, providing mutual growth in the long-run.
The company's dumpster rentals are referred to as 'roll-off containers' due to the way they roll off of their delivery trucks. The design of these dumpsters incorporates rollers, allowing the bin to be lowered and lifted using a hydraulic arm or winch, much like a tow truck. Working exclusively with this style of dumpster allows the company to deliver their containers to customers within a short timeframe. These roll-off dumpsters offer several advantages over temporary front-loading dumpsters, not least of which is the ability to carry more waste. Since roll-off containers can be carried on the flatbed of a truck, they can be built to hold larger volumes of trash. They are also built with thicker steel, allowing bulkier waste to be dropped inside the container without causing any damage to the unit. Front-loading bins, which are commonly found near shopping centers and office buildings, have to be designed so that they are small enough to be lifted by a garbage truck's hydraulic systems. A direct result of this requirement is that these bins are built with thinner steel to save weight. This design limitation prevents them from being useful on construction sites or home projects that require the disposal of much larger, and bulkier, forms of waste.
The increased hauling capacity of the company's dumpster rentals in Tampa allows them to market their bins towards a wide range of customers. These services typically appeal to a mix of residential and commercial customers with waste disposal problems. For homeowners, this includes basic home cleanouts and remodeling projects. But the company also offers yard debris removal, including the disposal of tree limbs, stumps, and common brush. Commercial users, consisting of independent contractors and construction companies, use roll-off bins for collecting construction debris on their work sites. Though there are other commercial users of dumpster rentals, including warehouse owners and shopping centers. These businesses utilize waste dumpsters for clearing out old stock or assorted clutter from their stores and warehouses.
The company offers three different sizes of dumpster rentals as part of its Tampa services. These sizes include 10, 20, and 30 cubic yard models, with varying weight limits. Each size can be used for hauling all of the various forms of waste generated by the average customer. The only limitation is that household and construction debris cannot be mixed in the same container. Construction debris is non-biodegradable and can harm the integrity of landfills that are designed to only handle municipal solid waste. Construction waste is therefore processed using separate facilities that either recycle or store the debris. Some materials, such as concrete, are routinely recycled by waste processors and used for construction purposes. The company utilizes several such facilities nationwide, allowing it to divert a large portion of the waste it collects from landfills.
Budget Dumpster's immediate plans for the Tampa area include intensive online marketing campaigns to help build its brand within the city. As its customer base in the region grows, the company hopes to acquire a respectable share of Tampa's dumpster rental market.
About Us
Budget Dumpster is one of the leading companies providing dumpster rentals all over the United States. Since its inception, it has billed itself as an affordable alternative for waste disposal. Its dumpster rental services are available to consumers in 35 states, including the District of Columbia. It continues to grow and add more cities to its service roster, with many more expansions planned for the future.