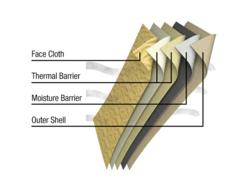 LION and DuPont have been collaborating on advanced materials and new designs for decades. It is a relationship that is rooted in market-driven science and innovation.
Wilmington, Del. and Dayton, Ohio (PRWEB) January 30, 2013
DuPont and LION have collaborated on a new offering for firefighters and first responders: gear that protects, from the inside-out with the most advanced blends of DuPont™ Kevlar® filament and DuPont™ Nomex® and Kevlar® staple. LION, a global leader in protective gear for first responders, was the first company to adopt new Kevlar® products in blends with Nomex® to provide maximum protection.
LION's Janesville® V-Force® garments with new Kevlar® filament-based outer shells and thermal liners offer game-changing comfort and strength, using Kevlar® and Nomex® for added comfort, mobility and durability. Coupled with DuPont materials, LION's design for its V-Force® turnout gear, for example, is more comfortable and provides more safety features than common firefighting coats because its tailored cut differs significantly from other available models and it provides a unique fit for better mobility, less physiological burden and enhanced ruggedness.
"LION and DuPont have been collaborating on advanced materials and new designs for decades. It is a relationship that is rooted in market-driven science and innovation," said Thomas G. Powell, president of DuPont Protection Technologies. "Increased hazards around the world, especially in growing urban environments, require advanced materials that provide maximum protection for those who protect us every day. Kevlar® and Nomex® are the leading protection brands, steeped in a history of proven performance and advanced testing and technologies.
"One of our biggest challenges is looking ahead to predict the risks and hazards that workers will be exposed to in the future, so that we have the time required to develop protection that meets all needs," Powell added. "An even bigger challenge is providing the necessary protection in a form that does not restrict the worker from performing his or her job, is comfortable and is cost effective. Balancing these sometimes conflicting objectives can be difficult. It requires an understanding of hazards, human factors, technology and economics. Our work with LION is a great example of how we continue to achieve and improve upon these goals."
"Both LION and DuPont know that the best way we can provide value to our first-responder customers is by listening to their challenges and needs and then responding with solutions that improve their comfort and safety in the line of duty," said Steve Schwartz, chief executive officer of LION. "Our joint obsession with capturing customer input and using it to deliver a continuous stream of game-changing products and services separates us from other companies that serve our markets."
Every layer of LION's firefighter protective apparel includes Kevlar® and Nomex®, either alone or in blends. They are critical materials in three key layers: a tough outer shell with cut- and flame- resistance; a moisture barrier that prevents penetration of liquid and blood-borne pathogens; and a thermal liner that provides efficient thermal insulation while not restricting user mobility.
DuPont and LION collaborate with fire departments around the world to test new fiber technologies and thermal protection within firefighter gear. DuPont™ Nomex® can withstand temperatures up to 700 degrees Fahrenheit (370 degrees Celsius). Skin can burn instantly at temperatures of 131 degrees Fahrenheit (55 degrees Celsius). Nomex® and Kevlar® are inherently fire-resistant and do not need to be treated. Tested through DuPont's rigorous Thermo-Man® unit, they are both self-extinguishing and durable.
DuPont sees the industry migrating to increased blends of Kevlar® and Nomex®. In addition to Nomex®, which is best known for its fire protection, there is growing interest in Kevlar® for its cut-resistance and increased strength. Kevlar® adds toughness and durability to the garments, providing more protection from the harsh environments firefighters and first responders face. Nomex® provides better comfort and day-to-day wearability.
LION is a leading provider of protective clothing for first responders. The company continues its focus and commitment to meet the individual needs of customers worldwide. Key fire service brands include LION Janesville® turnout gear, LION StationWear™, LION Protective Gloves®, LION Technical Footwear™ and LION Helmets™. LION also is the leading manufacturer and supplier of chemical and biological protective garments to many SWAT teams and Special Forces units in the law enforcement and military markets with its LION CBRN products.
LION is a 114-year-old, family-owned company based in Dayton, Ohio, that has a legacy and ongoing vision of introducing new products and services that are designed to ensure the health, safety and performance of the first responders who serve our communities and our country. LION continually delivers game-changing innovations in PPE and training solutions designed to best prepare firefighters, EMS teams and law enforcement officers for the new dangers and hazards they face each day. LION also designs paradigm-shifting lifecycle management and logistics programs that efficiently equip our warfighters for the rigors of training and the challenges of battle. LION makes sure the people who protect us are ready for action. For more information on LION and its products and services, visit http://www.lionprotects.com.
DuPont (NYSE: DD) has been bringing world-class science and engineering to the global marketplace in the form of innovative products, materials, and services since 1802. The company believes that by collaborating with customers, governments, NGOs, and thought leaders we can help find solutions to such global challenges as providing enough healthy food for people everywhere, decreasing dependence on fossil fuels, and protecting life and the environment. For additional information about DuPont and its commitment to inclusive innovation, please visit http://www.dupont.com.
# # #
1/30/13
The DuPont Oval Logo, DuPont™, The miracles of science™, Kevlar® and Nomex® are registered trademarks or trademarks of DuPont or its affiliates.
Janesville® V-Force®, StationWear™, Protective Gloves®, Technical Footwear™ and Helmets™ are registered trademarks or trademarks of LION.