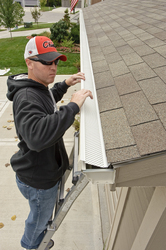 Durabuilt Gutter Protection is an ideal solution for homeowners who are looking for an economical way to protect their home with an easy to install product that requires very little maintenance
Cary, N.C. (PRWEB) October 5, 2009
Durabuilt® by Ply Gem, a leader in vinyl siding and accessories, is pleased to introduce its newest product, Durabuilt Gutter Protection® by Ply Gem, now available exclusively in select Lowe's stores.
Durabuilt Gutter Protection was created especially for DIY application. The affordable, easy snap-on design of Durabuilt Gutter Protection eliminates the need for special tools or brackets and can be installed by homeowners. Additionally, installation does not require the lifting of shingles or roof penetration and fits all 5-inch gutters with flat hangers. The product is also backed by a 10-year, no-clog, no-overflow warranty.
"Durabuilt Gutter Protection is an ideal solution for homeowners who are looking for an economical way to protect their home with an easy to install product that requires very little maintenance," said Jerry Blais, vice president, marketing, Ply Gem siding group. "This product is unique to the market of gutter protection and furthers our company's commitment to providing customers with variety and selection for every budget."
The durable aluminum construction of Durabuilt Gutter Protection will not rust or cave into the gutter. It also resists damage from pests and harsh weather, while small holes keep debris such as leaves, twigs and pine needles from clogging gutters, allowing rainfall up to 29.7 inches an hour to flow freely.
In conjunction with the launch of this product, Durabuilt by Ply Gem has launched a new Web site and Facebook fan page.
For more information and to find a Lowe's store near you, visit http://www.durabuiltgutters.com .
About Durabuilt by Ply Gem
Durabuilt® by Ply Gem is a vinyl siding and accessories brand created especially for Lowe's. Durabuilt vinyl siding is available in a broad pallet of designer colors, a variety of panel choices and accessory style options. Durabuilt vinyl siding and accessories have been engineered, time tested and performance proven since 1986. Manufactured by an industry leader with over 40 years of experience and made in the United States. For more information, visit http://www.durabuiltbuildingproducts.com .
About Ply Gem
Ply Gem, headquartered in Cary, N.C., is committed to helping North America's homebuilders, remodelers, architects, distributors, dealers and retailers do more than build homes. Ply Gem wants to help them build their business. The Company offers an unmatched solution to exterior building product needs with a portfolio that includes leading window, door, siding and accessories, stone veneer, fence and rail brands so there is something for every project. Ply Gem siding brands including Mastic Home Exteriors™, Variform®, NAPCO®, United Stone Veneer, Kroy®, Cellwood®, Georgia Pacific, DuraBuilt®, Richwood®, Leaf Relief® and Monticello® Columns. Ply Gem Windows manufactures and markets vinyl, vinyl-clad, wood-clad, aluminum-clad, and aluminum window and patio door brands including Ply Gem® Windows, CWD® Windows and Doors and Great Lakes® Window. The Company's brands are sold through short-line and two-step distributors, pro dealers, home improvement dealers and big box retailers. Ply Gem employs more than 4,700 people across North America. Visit http://www.plygem.com for more information.
###