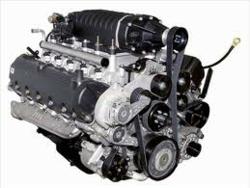 This new discount is one of the first for this 6.6 V8 engine series online.
Seattle, Washington (PRWEB) March 07, 2013
The diesel engines industry has increased in popularity and size since the 1990s. The fuel efficiency and compression-based power offered by diesel vehicles has helped automakers produce more vehicles in this class. The DieselEngines.co company has now discounted its Duramax diesel engine for sale inventory as an exclusive for website sales. This new discount is one of the first for this 6.6 V8 engine series online. More details can be read online at http://dieselengines.co/gm-duramax-engines/duramax-diesel-engines-sale.
General Motors partnered with Isuzu to create the Duramax or DMAX diesel motors. The 2001 creation of the 6.6 size has been responsible for many vehicles receiving an increase in power and stability. More than one million of these engines have been sold independently due in part to the 300 hp offered.
The discounted engines now sold online include the 6.6 size and other DMAX variants that remain in stock. These remanufactured diesel engines are built to OEM specs and now shipped on the same day orders are received.
The reliability that is typically found in diesel engines is one of the reasons that many automakers have switched to offering these for trucks and SUVs. Engine mileage is still one of the degrading elements that can shorten the lifespan of a diesel engine. While these engines are built for years of use, most truck owners will face the decision of replacing a motor during the ownership period.
To help extend the useful life of a diesel, the DieselEngines.co company has now created a new warranty exclusively for this engine type. The new 36-month protection plan is offered due to the rebuilding work this put into these engines for sale.
A new way of delivering online pricing to customers was announced last year by this company. The toll-free telephone quote system monitored by engine specialists remains one way that customers receive immediate assistance. The online distribution of pricing has helped this company produce more engine quotes for customers. This price distribution method remains one of the popular ways for customers to receive immediate pricing for GM or other engines in stock.
About Diesel Engines Co.
The Diesel Engines Co. is a leading retailer online for diesel motors from all automakers. This company custom builds these engine types for direct installation or resale to trade industry buyers. This company uses a pricing structure that is lower than MSRP for the base price for sale. This pricing measure is in addition to no charge warranty extension coverage. The Diesel Engines Co. processes all diesel engine shipments the same day as customers complete orders online or by toll-free telephone number. This effort greatly reduces shipment delays that are a common problem in the replacement engines industry.