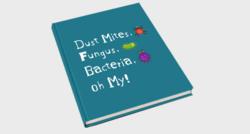 Tempe, AZ (PRWEB) March 08, 2013
Bed pillows seem like an innocuous object, but recent studies reveal them as veritable petri dishes and potential allergen sources. From dust mites to fungus and bacteria, unseen organisms can have a host of effects. Fortunately, careful pillow selection and a few other habits can help.
Sleep Junkie tackles the topic in their latest post, titled "Dust Mites, Fungus, Bacteria, Oh My! Latex and Memory Foam Pillows May Help Your Health." The article addresses factors that relate to allergens and bacteria as specifically relates to pillows. Due to their proximity to people's faces, pillows play an important role and the information provided proves helpful to nearly everyone.
The article begins with an in depth look at dust mites. Related to spiders and ticks, they exist throughout homes, typically on fabrics and fibers (like bedding, carpets, and furniture). Dust mites do not bite, but feed off shed skin cells from humans and animals. In addition to unappealing thoughts, the critters and their waste contribute to allergies and asthma which impact millions of people.
Sleep Junkie also addresses the potential for fungus on pillows, citing a University of Manchester study whose tests on synthetic and down pillows showed up to 16 variations of fungi. Although the article mentions they are typically benign for healthy individuals, these can pose a concern for people with weaker immune systems
An overview of bacteria is next on the list of discoveries in down and poly-fill pillows. Bacteria on pillows comes from sleepers, pets, the environment and more. To reduce this, the blog recommends always using a washable cover and frequently washing in hot water.
The article proceeds to uncover methods of protection while sleeping which will eliminate or drastically reduce the effect of these allergen and asthma triggers. Pillows recommended in the article include natural latex and memory foam, particularly plant-based memory foam pillows like those from Amerisleep.com which do not contain toxic VOCs. These materials are considered inhospitable to bacteria, fungus and dust mites due to foam's structure and composition.
The post closes with list of tips for reducing allergens and maintaining a healthy sleep environment. Dust-mite and liquid proof pillow covers help reduce allergens and protect pillows from spills and moisture. Other ideas include regular cleaning, washing bedding in hot water, and using a mattress cover. While not everyone experiences allergies due to dust, a clean, healthy bed is something everyone will appreciate, and the article serves to provide helpful information.
SleepJunkie.org is a blog dedicated to all things sleep, from mattresses, bedding, to sleep research and more. With a focus on making mattress research easier, the website offers independent assessments and reviews of the latest brands and technologies. Readers also enjoy timely updates on mattress-related news and expert help in selecting the best mattress to fit their needs and lifestyle.