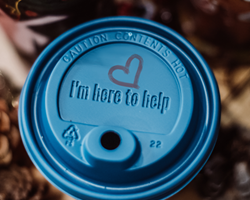 "The way our customers supported the victims of the California wildfires was truly inspiring," said Travis Boersma, CEO of Dutch Bros. "We're honored to bring people together to help our communities in need."
GRANTS PASS, Ore. (PRWEB) November 27, 2018
Together, Dutch Bros and its customers have donated $401,530 to support wildfire relief efforts in California. Over the course of a week, Dutch Bros customers donated at stands throughout seven states, while Dutch Bros matched the donations up to $150,000.
"The way our customers supported the victims of the California wildfires was truly inspiring," said Travis Boersma, CEO of Dutch Bros. "We're honored to bring people together to help our communities in need."
The money donated will be distributed to local non-profit organizations directly serving fire victims with immediate needs. Those organizations include United Way of Northern California, the Salvation Army and North Valley Community Foundation.
"Thank you to the communities, customers and employees who rallied together to make a positive impact during trying times," said Kendra Lellis, managing director of Love Abounds Foundation.
About Dutch Bros
Dutch Bros Coffee is the country's largest privately held drive-thru coffee company, with more than 325 locations and 9,000 employees in seven states. Dutch Bros is headquartered in Grants Pass, Oregon, where it was founded in 1992 by Dane and Travis Boersma, brothers of Dutch descent. Dutch Bros serves specialty coffee, smoothies, freezes, teas, a private-label Dutch Bros Blue Rebel energy drink and nitrogen-infused cold brew coffee. Its rich, proprietary coffee blend is handcrafted from start to finish: each ingredient is measured, every process timed and each cup perfected.
With a mission to serve as a role model in the community and commitment to doing the right thing, Dutch Bros donates more than $2 million annually to nonprofit organizations and local causes selected by local owner-operators. To learn more about Dutch Bros, visit http://www.dutchbros.com, like Dutch Bros Coffee on Facebook or follow @DutchBros on Twitter.