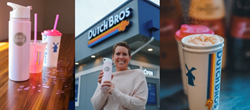 "We are so proud of the support our customers showed for these amazing organizations," said Travis Boersma, CEO and co-founder of Dutch Bros Coffee. "We are honored to have the opportunity to be part of the fight against breast cancer."
GRANTS PASS, Ore. (PRWEB) November 08, 2018
Dutch Bros Coffee raised $421,440 for the OHSU Knight Cancer Institute and Albie Aware in celebration of Breast Cancer Awareness Month. For each custom "Be Aware" mug sold in October, Dutch Bros donated $10 to support breast cancer research and patient support.
"We are so proud of the support our customers showed for these amazing organizations," said Travis Boersma, CEO and co-founder of Dutch Bros Coffee. "We are honored to have the opportunity to be part of the fight against breast cancer."
Of the total funds raised, $385,930 will go to the OHSU Knight Cancer Institute. The institute believes individual, targeted treatment and early detection are crucial to ending cancer as we know it. It received the National Cancer Institute's top recognition as a Comprehensive Cancer Center based on meeting criteria in three key areas: laboratory research, clinical research and population-based science.
"We are incredibly grateful to have Dutch Bros as a long-time partner in our battle against breast cancer," said Brian Druker, M.D., and director of the OHSU Knight Cancer Institute. "We're energized by this year's record-breaking contribution and we deeply appreciate this enormous show of support by thousands of Dutch Bros customers who share our desire to end cancer as we know it."
The remaining funds, which were raised in the Sacramento area, are helping support Albie Aware, an organization that focuses on individuals fighting cancer by providing diagnostic testing, patient advocacy, prevention education and compassionate support. This year's donation totals more than $35,000.
"We are deeply grateful to Dutch Bros for its support of our mission to provide critical, direct services to women with breast cancer," said Cindy Love, executive director of Albie Aware. "This year the demand for our services has increased more than 30 percent, and Dutch Bros' support will ensure no one is turned away."
Dutch Bros Coffee has taken part in Breast Cancer Awareness month for the last five years. Since then, Dutch Bros has raised more than $1.3 million for the advancement of breast cancer research and treatment.
About Dutch Bros
Dutch Bros Coffee is the country's largest privately held drive-thru coffee company, with more than 320 locations and 9,000 employees in seven states. The company is headquartered in Grants Pass, Oregon, where it was founded in 1992 by Dane and Travis Boersma. Dutch Bros serves specialty coffee, smoothies, freezes, teas, a private-label Dutch Bros Blue Rebel energy drink and nitrogen-infused cold brew coffee. Its rich, proprietary coffee blend is handcrafted from start to finish.
In addition to its mission of speed, quality and service, Dutch Bros is committed to giving back to the communities it serves. Through its Love Abounds Foundation and local franchisees, Dutch Bros donates more than $5.8 million each year to causes across the country.
To learn more about Dutch Bros, visit http://www.dutchbros.com, like Dutch Bros Coffee on Facebook or follow @DutchBros on Twitter.