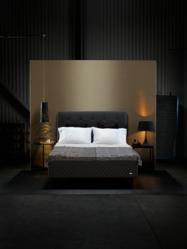 The DUX 101 is the signature of DUXIANA knowledge, craftsmanship and ability to create high quality, long lasting products. We are proud to offer customers a new way to experience the elegant design and comfort of a DUXIANA luxury bed."
New York, NY (PRWEB) March 13, 2013
Continuing its commitment to improving life through better sleep, DUXIANA® is excited to announce the launch of its newest luxury bed model, the DUX 101. With its dynamic two-layer spring base, the DUX 101 is the perfect introduction to the legendary comfort, support and therapeutic benefits of a DUXIANA bed.
"The DUX 101 design is based on the original DUX Bed designed in 1926 and has since been perfected throughout the years," said Ed Curry, president of DUXIANA. "The DUX 101 is the signature of DUXIANA knowledge, craftsmanship and ability to create high quality, long lasting products. We are proud to offer customers a new way to experience the elegant design and comfort of a DUXIANA luxury bed."
Unique Dynamic Spring System
Handcrafted from the finest materials available, at the heart of the DUX 101 is nearly two times as many springs as an ordinary bed. Designed to align your spine to help alleviate back pain, the extra springs in a DUXIANA therapeutic bed provide better contouring for your body, reducing pressure points, which can also help improve circulation.
Unrivaled Support
The DUX 101 comes with the DUXIANA Xupport Top Pad. The Xupport Top Pad is an integral part of the DUXIANA experience, enhancing the personal feel and comfort vital to a great night's rest. Unlike most beds with pillow tops, the Xupport Top Pad is not fastened to the bed. Not only does this complement the contouring nature of our luxury beds, but in the case of an accident or wear, the top pad can be replaced without having to replace the entire mattress.
Unparalleled Research and Craftsmanship
DUXIANA is one of the highest quality bed manufacturers in the world, producing the most comfortable and technologically advanced luxury beds. The DUX Difference is committed to improving life and health through better sleep.
DUX 101 Specifications:

Queen size starting from $4,800
Available in standard American sizes including Twin, Full, Queen, King and California King.
Mattress height 10 ¼"
Total mattress height with Xupport Top Pad 12 ¾"
Recommended leg heights 7 ¾" 9", 11 ¾"
Available now in all North American store locations, the DUX 101 can be used with a choice of bed legs in various styles and finishes or can be used with most existing bed frames.
Customers and fans of DUXIANA are encouraged to connect on Facebook and Twitter to stay in touch with the brand. Fans can also keep up on all things DUX through the recently launched corporate blog at duxiana.us/News-Press/.
About DUXIANA®
Since 1926, DUXIANA has aspired to produce the most comfortable and technologically advanced beds on the market. DUXIANA's handcrafted DUX, The Bed For Life® is sold exclusively in 28 DUXIANA stores across North America and over 100 locations worldwide. With more than 85 years of research on ways to blend the science of sleep with the ultimate in luxury and comfort, DUXIANA remains known for its Advanced Technology in Sleeping. For more information, visit duxiana.com.
Connect with DUXIANA on Facebook at facebook.com/TheDUXBed and on Twitter at twitter.com/TheDuxBed.
Media Contact
Jessie Barrett
lotus823
jessieb(at)lotus823(dot)com
(732) 212-0823