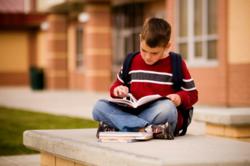 Both scientific and IT advances allow us to deliver deeply customized approaches which match each individual student
Seattle, WA (PRWEB) March 21, 2013
Dynaread is excited to see that action towards students who struggle with learning disabilities are finally being accommodated towards. Two articles from The Yale Centre for Dyslexia & Creativity talk about the various accomodations that are now being made for students who struggle at school due to a learning disability. The CEO of Dynaread, Hans Dekkers, talks about the technologies that are now available to accommodate students. Dynaread has also just released a deep learning disabilities customization option to their dyslexia remediation program.
There has been a continuous fight for students who struggle with learning disabilities to succeed in an educational environment. The lack of assistance and special accommodations for these students is what prevents them from achieving success during their time in school.
In the past, there has been growing concern with this issue and it is now finally been brought to light. Many students are now receiving the accommodations needed to achieve not only successful results but the most successful results possible.
An article from The Yale Centre for Dyslexia & Creativity talks about a court ruling in favour of students to receive the most effective accommodations so as to be measured by their best abilities and not their disabilities. With the advancement of technology and the changing times, the ways of educational systems should be changing as well.
Another article from The Yale Centre for Dyslexia & Creativity called The Test from Hell by Kathryn Olney, talks about how students with learning disabilities who are given more time on tests can improve their mark from somewhere in the C range to an A. This is such a simple accommodation, yet it is extremely effective.
There are also numerous listings of new US and State laws to improve the education system in dealing with students who have learning disabilities. There are also expanding community organizations that help expand awareness. For example a parent group called Decoding Dyslexia-NJ has just expanded to NY in just over a year, and many other states are joining in as well.
With all of these tremendous success stories, Dynaread Special Education Corporation is proud to be among them. With Dynaread's constant drive to fight illiteracy, she has only increased its success.
There is still much that needs to be done. The good news is: Awareness and accommodations have increased greatly over the last few years. Hans Dekkers, CEO and Founder of Dynaread: "Every child is unique. Not only in their behavior and home environment, but even also in their neurological wiring. A one-shoe-fits-all approach is neither appropriate nor necessary. Both scientific and IT advances allow us to deliver deeply customized approaches which match each individual student. We released yet another deep customization, as learning disabilities so very often come in groups of comorbidities. This demonstrates our passion within Dynaread as we fight illiteracy. It simply is not necessary anymore to enter adolescence as an illiterate. It is pain, humiliating, profoundly unjust, costly to society, and flat out dangerous to the psychological health of the child."
Struggling from learning disabilities should no longer be the wall that keeps students from success; instead it should merely be a small stepping stone towards greater things.
For more information on Dynaread, please visit:
https://www.dynaread.com/
For more information on the Yale Centre for Dyslexia & Creativity, please visit:
http://dyslexia.yale.edu/policy_AdmissionsTesting.html
http://dyslexia.yale.edu/POL_EnyartVsNCBE.html
For more information on Decoding Dyslexia, please visit their Facebook page:
https://www.facebook.com/pages/Decoding-Dyslexia-NY/436855306391150?fref=ts