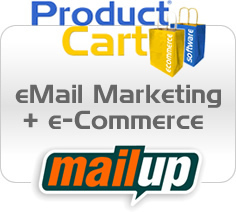 E-mail marketing and e-commerce are a perfect match.
Mission Viejo, CA (PRWEB) September 26, 2008
Early Impact, Inc. (Mission Viejo, USA) and NWEB (Cremona, ITALY) today announced an integrated offering that combines ProductCart shopping cart software with MailUp e-mail marketing services.
ProductCart is a popular e-commerce solution used by thousands of Internet storefronts. MailUp is a subscription-based, professional e-mail marketing and newsletter management system. A hosted service, MailUp is robust and scalable: a perfect solution for businesses that wish to create, send, and track professional e-mail campaigns. In many markets, MailUp allows for SMS-based campaigns to mobile devices too.
The MailUp - ProductCart integration allows e-commerce Web sites to quickly generate targeted lists of recipients using a number of smart filters - such as a customer's order history - and instantly send them to MailUp where a professionally designed message can be reliably sent and tracked.
Connecting a ProductCart-powered online store to a MailUp newsletter management console takes only a few clicks and enables a number of useful features. Among them:
>> Automatic Registration with MailUp
ProductCart automatically registers new customers into the MailUp e-mail marketing system. A double opt-in approach is used, in compliance with consumer privacy regulations (customers confirm their subscription). When customers update their e-mail preferences on the ProductCart-powered store, the MailUp system is also updated in real-time.
>> Support opting into multiple lists
Store customers can to opt into multiple, different lists. For example, a business may use different lists for "New Products", "Promotions", and "Support & Updates". Subscriptions and un-subscriptions are independently managed for each list. This allows for a scenario where the same customer might want to subscribe to one list, but not another.
>> Bulk Registration
Existing store customers can easily be registered with MailUp, without any need to import/export their data.
>> Targeted e-mail campaigns
Through the ProductCart Newsletter Wizard store managers can quickly filter customers in a variety of ways and send the filtered list of recipients to MailUp so that different, targeted messages can be sent to them. For example: a new accessory for a music player is now available: clearly, a different message should be sent to customers that requested product news, depending on whether they have or have not purchased the music player. With the ProductCart - MailUp integration this can be done in a few clicks!
"E-mail marketing and e-commerce are a perfect match." said Massimo Arrigoni, CEO of Early Impact. "You need a good e-mail marketing system to connect with existing customers and promote word of mouth and repeat purchases. But you also need a robust e-commerce engine to turn that communication channel into a revenue generator. The more integrated the two systems are, the more effective your direct marketing efforts will be."
The integrated ProductCart + MailUp system is available immediately. ProductCart starts at $695 per storefront. MailUp starts at $45/month, and subscriptions are based on an innovative, "pay-per-speed" pricing model. That is: there are no limitations on contacts, lists, and messages. The only limitation is the speed at which messages are sent. The faster you want your newsletters to be sent, the more you pay. Calculate the speed you need with the bandwidth calculator.
For more information on the ProductCart + MailUp offering, please visit http://www.earlyimpact.com/productcart/mailup. For more information on MailUp, please visit: http://www.getmailup.com
About Early Impact, Inc.
Early Impact develops e-commerce software for small businesses. Its ProductCart line of shopping cart software is used by thousands of Internet stores around the world. Hundreds of Web design companies have chosen it as their e-commerce system of choice for building online storefronts for their customers. Early Impact is a privately owned California corporation, headquartered in Mission Viejo, CA.
About NWEB Srl
NWeb develops Internet and Intranet applications for corporate users worldwide, and makes them available using the Software As A Service (SaaS) approach. Its MailUp newsletter management system employs cutting-edge technology to provide a state-of-the-art application for e-mail marketing. MailUp combines Italy's top-quality engineering and unique sense of style into an application that is used successfully by hundreds of companies worldwide. NWeb is privately owned with offices in Milan and Cremona, Italy.
Media Contacts
Massimo Arrigoni
Early Impact, Inc.
marketing at earlyimpact.com
+1 (800) 804-1680 ext. 6
Nazzareno Gorni
NWEB, Srl
marketing at nweb.it
+39 (02) 71040485
###