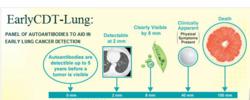 We are encouraged by the potential role EarlyCDT-Lung can play in the fight against lung cancer, while reducing costs to the health care system.
De Soto, Kans. (PRWEB) May 03, 2012
Oncimmune® (USA) LLC, creator of EarlyCDT®-Lung, a simple blood test that aids physicians in the risk assessment and early detection of lung cancer, announces that EarlyCDT-Lung will be part of clinical trial scheduled to begin in late 2012. Conducted by the Scottish Government, the randomized clinical trial will focus on determining the economic impact of screening high risk patients with EarlyCDT-Lung.
Founded in 2003, Oncimmune is a pioneer in the field of cancer detection research. EarlyCDT-Lung is a simple blood test that measures specific autoantibodies, or immuno-biomarkers, which are elevated in patients with lung cancer. Because these autoantibodies are often present at the earliest stages of lung cancer, EarlyCDT-Lung can aid in the diagnosis of lung cancer even before lung cancer symptoms occur. Currently 85% of lung cancer is found symptomatically with the majority of cases being late stage cancer. EarlyCDT-Lung provides the physician a tool to find the disease prior to onset of lung cancer symptoms. Now available in all 50 U.S. states, Oncimmune's proprietary autoantibody technology is also becoming recognized by the international medical community.
Scheduled to begin in 2012, the trial is funded by the National Health Service of Scotland (NHS), Centre of Excellence for Autoimmunity in Cancer (CEAC) in Nottingham, UK, and Oncimmune Ltd. The randomized trial will determine the cost–effectiveness of screening high risk patients with EarlyCDT-Lung, before they exhibit symptoms of lung cancer. The Scottish government is encouraged by the potential health and financial benefits of EarlyCDT-Lung .
The study will focus on the health and economic benefits of screening with EarlyCDT-Lung in an effort to reduce advanced stage lung cancer diagnoses in the Scottish population. Early detection of lung cancer prior to the onset of the symptoms of lung cancer is of particularly high priority to the Scottish Government, as statistics show that Scotland has one of the highest rates of lung cancer in the world – almost twice that of the rest of the rest of the United Kingdom. The trial will include 10,000 high-risk individuals and will begin in 2012. Initial results are expected near the end of 2014.
The announcement of the trial comes in the wake of a groundbreaking study from a National Lung Cancer Screening Trials study (NLST) which found that participants who received low-dose helical CT scans had a 20 percent lower risk of dying from lung cancer than participants who received standard chest X-rays. Because CT scans are expensive and broad screenings are simply not cost effective, the Scottish government believes EarlyCDT-Lung will help reduce the overall number of CT scans needed to detect lung cancer in the high risk population.
"We are excited for EarlyCDT-Lung to be tested in such a large trial, supported by the Scottish government," said Dan Calvo, President and CEO of Oncimmune. "We are encouraged by the potential role EarlyCDT-Lung can play in the fight against lung cancer, while reducing costs to the health care system."
The Oncimmune team is committed to the on-going pursuit of lung cancer detection technology. The announcement of this study is a monumental achievement for the doctors and scientists behind EarlyCDT-Lung. Their goal is to develop a series of early cancer detection tests for a variety of early stage cancers. Watch for more exciting announcements from the Oncimmune team in the coming months, and years, as they continue to develop this revolutionary technology.
About Oncimmune (USA) LLC
Oncimmune (USA) LLC, founded in 2006, is an industry leader in early cancer detection. The company is committed to advancing early cancer detection through proprietary immuno-biomarker technologies based on biological technology identified by John Robertson, M.D., Professor of Surgery at Nottingham University, England, and Chief Scientific Officer of Oncimmune LTD. Ongoing research and development is conducted by Oncimmune under the direction of Professor Robertson. The company's mission is to develop early cancer detection tests to identify more than 90% of solid-tumor cancers, which make up 70% of all cancers including lung, breast, colorectal, prostate, stomach, pancreatic and ovarian. All testing is performed exclusively at Oncimmune's CLIA (Clinical Laboratory Improvement Act) regulated laboratory located in the metro Kansas City area. Oncimmune (USA) LLC is a wholly owned subsidiary of Oncimmune LTD. Oncimmune LTD owns a portfolio of patents, including Patent Nos. 7,402,403 and 7,205,117, with five others currently filed and under review. For more information about Oncimmune, visit: http://www.hellohaveyouheard.com.