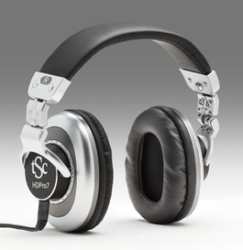 The Speaker Company's headphone and earphone line provide quality headphones at prices for everyone, from the most discerning listener to the budget consumer
Mahwah, NJ (PRWEB) March 9, 2009
Consistent with its mantra of offering Twice the Quality at Half the Price, The Speaker Company recently announced that it now offers a full line of headphone and earphone products beginning this winter. These headphones and earphones meet the needs and budget of most every listener.
Headphones for Many Needs:
From those looking to upgrade their iPod or MP3 player headphones to professional quality headphones and earphones, The Speaker Company has a pair of headphones or earphones that meets many different listeners' needs.
Headphones and Earphones include:

IE-3 Earphones - These earphones are good for the listener that is looking to upgrade from their iPod/MP3 player earphones
IE-5 Earphones - These professional quality in-ear earphones provide amazing sound and quality at an affordable price.
NC-3 Headphones - These noise canceling headphones are best for the listener that's looking for over ear headphones and noise canceling functionality
HDPro-7 Headphones - These over ear headphones provide amazing professional studio sound at a price that you would only expect from The Speaker Company.
"The Speaker Company's headphone and earphone line provide quality headphones at prices for everyone, from the most discerning listener to the budget consumer," said Nick Valente, General Manager of The Speaker Company. "Our headphones and earphones can fit most every budget and need, and are perfect for the consumer that is looking to experience true high fidelity from their headphones or earphones."
Initial customer feedback has been quite positive: "Great value here," one customer said about the HDPro-7 Headphones; another customer wrote about their IE-5 earphones, "The highs and mids are just so crisp, it's like when I got my first plasma TV and saw how sharp and awesome the picture now was." The positive reviews have continued as well.
When you need that new set of stereo headphones or earphones and want quality at an affordable price, look to the Speaker Company. For more information on the headphone and earphone line, visit http://www.thespeakercompany.com/Headphones-C26.aspx .
###