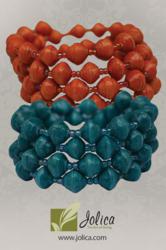 Having grown up in the Congo I am delighted to bring a flavour of Africa to Jolica
(PRWEB) March 19, 2013
Handcrafted out of recycled paper by women in Fair Trade workshops in rural Uganda, Jolica's new blue and nectarine paper wrap-bracelets are the perfect way to acknowledge and have fun with Earth Day.
Earth Day is celebrated around the world every year on the 22nd of April. Jolica is proud to add these bracelets to its line of earth friendly products in time for the celebrations. They join eco-leather briefcases, recycled beach glass jewelry, and handmade paper packaging.
The colourful, new wrist wraps are in demand for their earth friendly materials, contemporary style and for their Fair Trade principles. It is no surprise that this unique line of recycled jewelry has appeared on the runway in NYC's Africa Fashion Week. At nineteen dollars even the price is right.
Available in nectarine and dusk blue, the chunky, spiral bracelets are hand-fashioned by women who are paid and treated fairly. Fair Trade means having financial independence, the ability to create a better life for their families and a growing sense of confidence. Harriet, one of the bracelet makers, proudly declared that she is a happy woman but added, "I'm going to get even happier as my business grows," a sentiment which entrepreneurs everywhere can identify with.
Jewelry from Africa is a first for Jolica. "Having grown up in the Congo I am delighted to bring a flavour of Africa to Jolica," said Darlene Loewen, Co-Founder and President.
A unique direct sales, accessories company Jolica's line of jewelry, scarves and handbags are crafted in Chile, India, Indonesia, Nepal, Peru and Thailand.
Jolica's accessories are sold at home parties and fundraisers by independent Gift Consultants, as well as online. Gift Consultants enjoy earning an income while working on a flexible schedule, knowing that their sales support artisans in developing countries and provide treatment for children born with club foot through the Jolica Foundation. Jolica makes is possible for anyone, anywhere to have their own successful Fair Trade business.
Jolica is a member of the Fair Trade Federation (FTF) and the Direct Selling Women's Alliance (DSWA).
###
About Jolica:
Founded in 2005 by Darlene and Ted Loewen, Jolica is a privately owned direct sales company based in Fonthill, ON. Jolica's handcrafted jewelry, scarves and handbags are created by artisans in Chile, India, Indonesia, Nepal, Peru and Thailand, and are purchased according to the principles of Fair Trade.
Jolica's direct sales model makes it possible for anyone, anywhere to have their own successful Fair Trade jewelry and accessories business. This also makes it possible for everyone, everywhere to have access to beautifully handcrafted Fair Trade jewelry, scarves and handbags. Jolica is a member of the Fair Trade Federation (FTF) and the Direct Selling Women's Alliance (DSWA). Five percent of all sales go to the Jolica Foundation. http://www.jolica.com
Contact:
Ingrid Heinrichs Pauls
Public and Media Relations
(c) 905-330-9040
ingrid(dot)heinrichspauls(at)jolica(dot)com
http://www.jolica.com