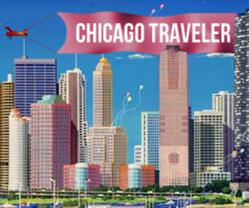 (PRWEB) March 15, 2013
Easter is coming early this year, and on March 31, Chicago will be celebrating Easter 2013 like no other. Gather the whole family and check out one of the popular Chicago attractions this Easter, or attending any of the special events like brunches, Easter Egg Hunts and even a few dog-friendly events. ChicagoTraveler.com announces the top ways to spend Easter 2013 in Chicago, and where to stay for it all.
Chicago Easter Brunch Cruises
One of the most popular things to do in Chicago this Easter is get the family together for a nice Easter brunch. But where? Why not on a fabulous cruise aboard the Chicago River or Lake Michigan? Enjoy breathtaking views of the city, a delicious meal and a fun and refreshing brunch experience like no other on one of the best sightseeing cruises in Chicago. Spirit of Chicago is offering a special Easter brunch and Easter dinner cruises this year that include a decadent buffet, an interactive emcee and dancing. Have a ball with the entire family on one of the most unforgettable cruises this Easter. Book ahead of time online to reserve a seat for everyone who's coming and to snag a discounted rate, like 15% off reservations made online before March 17th.
Easter Egg Hunts in Chicago
Have an Egg-stravaganza this year in Soldier Field on March 23, 2013. For the 10th annual year, families will gather for this event, which begins with a brunch (reservations are required, so plan ahead - don't miss all this fun.) Brunch ends at 10am, and that's when the real fun starts. The candy egg hunt takes place on Soldier Field, free for everyone who participated in the brunch. That's not all though. Enjoy family-friendly activities like face painting, inflatables, balloon artists and fun activities in the Waldron Park Deck. This is one of the best things to do in Chicago with kids of the year, so don't miss the chance to join in the fun.
This is not the only Easter Egg Hunt in Chicago though. Practically all of Chicago's beautiful parks will be hosting an Easter Egg Hunt this year, most of which will be held on March 30, 2013. Many Chicago Egg Hunts also host fun events featuring face painting, prizes, treats, arts and crafts and more. Most of these events are free, but some do charge a small fee. There are also some Doggie Easter Egg Hunts in and around Chicago, like the one in Horner Park, that give every special pet a chance to partake in the fun too. All of these Chicago events are family friendly, and even the ones that charge are well worth every penny.
Family Friendly Chicago Attractions
Easter break lasts more than just Easter Sunday, so on the other days you're here, take advantage of all the great Chicago attractions like museums, tours and iconic landmarks. There are some fantastic deals in Chicago to make visiting more than one attraction affordable - like the Best of Chicago pass. This discount card saves travelers 35% on 6 of Chicago top attractions, including the Shedd Aquarium, SkyDeck at Willis Tower, The Field Museum, Museum of Science and History, Adler Planetarium and the Art Institute of Chicago. See all of Chicago with the entire family on this trip with any of the special discount cards.
Where to Stay in Chicago Easter 2013
Many of the best hotels in Chicago are offering great deals to make traveling this Easter even easier. The Fairmont Chicago has a package deal for every traveler, whether you're coming to Chicago this Easter with the family, on a romantic getaway or ready for some great shopping to get ready for the season ahead. Take advantage of the shopping package, which includes a $100 Macy's gift card. The romantic Chicago escape package includes all kinds of special treats and bonuses sure to make this an unforgettable trip with someone special. Sofitel Chicago offers convenience, luxury and some of the best views in the city. Stay so conveniently close to Michigan Avenue and take advantage of these Chicago hotel deals to make staying in this gorgeous hotel affordable.
There are so many great things to do in Chicago this Easter, so use these few vacation days for a special trip to the Windy City with the whole family and enjoy all of the great food, iconic attractions and exciting events going on Easter weekend, and every other weekend in Chicago!
About ChicagoTraveler.com:
Chicago is one of the top vacation destinations in America famous for their annual events, popular foods, architecture and top sports teams. ChicagoTraveler.com guides travelers to all the best things to do, top places to eat and deals on the best places in Chicago to stay. This article was written by Lizz Riggs, editor of ChicagoTraveler.com.