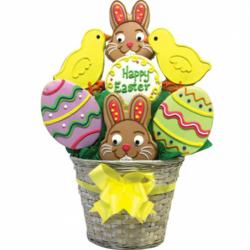 New York, NY (PRWEB) March 13, 2013
Easter gifts are something that children wait the entire year for. Parents strive to find something that could serve as a great gift for their beloved young ones but it's definitely no surprise that they end up giving random, generic Easter egg basket. Not only is this a very bore practice, but it drains the holiday enthusiasm from the kids. This year, on Easter 2013, why not surprise your kids with an unexpected gift, something that they'll remember for a long time: an Easter Cookie Gift Basket!
Clever Cookie has yet again come up with exclusive ideas to lighten up your holiday and to enhance the gift giving spirit manifold. Featuring exclusive Easter Cookie Gifts, the company has uploaded an excellent litany of items that will be available to its valued customers for the holiday. The cookie gift baskets are an excellent way to express one's attachment to their loved ones, by presenting something truly extraordinary. These cookie baskets are nothing less than pieces of art, brought together beautifully, with delicate toppings and elegant designing.
To ensure people can attain maximum value for their hard earned money, Clever Cookie has offered a deal that is sure to attract thousands of customers from across the world. The company will give a chance to anyone that spends more than $100, to design their very own customer cookie basket! Also, the company has offered a cookie giveaway, simply by visiting Clever Cookie's Facebook fan page.
For over 20 years, Clever Cookie has helped customers across the country find a unique way to enjoy special occasions and gift-giving of all sorts with their delicious and intricately designed cookies. Having been featured in numerous magazines and TV shows, including the Today Show and Food Network, Clever Cookie continues to expand its line of cookie creations, which includes sugar free cookies, Kosher cookies, giant cookies, and cookies that feature child favorites such as Dora the Explorer and SpongeBob SquarePants.
To visit Clever Cookie's website, click http://www.CleverCookie.com. For the Facebook page, visit https://www.facebook.com/pages/Clever-Cookie/472426086112131
About Clever Cookie:
Clever Cookie was founded in 1991 by sibling entrepreneurial spirits Lisa and David, who determined that cookies should be more than sweet treats—but creative confections that delight cookie-lovers of all ages! The company has been showcased numerous times on both print and electronic media and continues to gain popularity with an ever increasing clientele. To learn more, visit Clever Cookie's main site at http://www.clevercookie.com/
Contact:
Howard Saffeir
http://www.clevercookie.com/
info(at)clevercookie(dot)com
1-800-237-8443