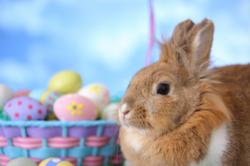 Few people stop and think about how too much sugar can lead to gum disease and all the potentially serious conditions associated with it.
Bournemouth, Dorset (PRWEB) March 22, 2013
Oral healthcare experts from Eludril and Elgydium have published guidelines to help Easter egg fans enjoy their seasonal chocolate treats in a healthier manner.
Chocolate consumption in the UK has risen by five per cent annually in recent years, a trend which market intelligence experts Mintel expect to continue up to 2016.
That does not bode well for teeth and gums, warn the manufacturers of Elgydium toothpaste and Eludril mouthwash.
Easter eggs – like many chocolate products – have a high sugar content.
This increases the likelihood of gum disease, which has been linked with more serious conditions such as heart disease, diabetes, respiratory disease, osteoporosis and some cancers.
Elgydium and Eludril's experts recommend 'keeping Easter special' by not eating any eggs before Easter Sunday – a healthy and respectful alternative to the approach taken by many UK supermarkets, some of which started selling chocolate eggs as early as Christmas Eve.
The oral healthcare experts recommend the following:

Buy a smaller egg – your teeth, gums, waistline and heart will thank you later in life
Consider dark chocolate with a high cocoa content before milk or white chocolate which can have more sugar
Check out the sugar content of various Easter eggs and buy one that is lower in sugar (while dark chocolate generally has less sugar, this can vary so check the label)
Buy an egg without any additional bars of branded sweets in the same pack or chocolates in the centre of the egg – buy an egg that just has the shell
Eat some of the Easter egg as an alternative to desert – after meals rather than between them as a snack
Wait 30 minutes before brushing your teeth – brushing immediately can damage the dentin below the enamel.
A spokesperson for Elgydium and Eludril said: "It's no secret that eating too much sugar-laden chocolate at Easter – or any other time – will have a negative impact on your teeth and your waistline.
"But few people stop and think about how too much sugar can lead to gingivitis (gum disease) and all the potentially serious conditions that have been associated with it."
Gingivitis can be easily identified and treated. Early signs of gum disease include sore red gums.
Another symptom is swollen gums – inflammation or reddening, particularly in the triangular areas between the teeth.
Bleeding gums are an indication that gingivitis has been present for some time and left untreated. It can also be a sign of brushing too hard.
The consequences of ignoring gingivitis include a receding gum, although this can also be caused by over-hard brushing.
Dentists recommended chlorhexidine as the leading gum disease treatment.
Chlorhexidine is an ingredient in Elgydium toothpaste, which can be used daily, and also Eludril gingivitis mouthwash.
For more information about Elgydium and Eludril, please contact Nikki Warner-Green at Ceuta Healthcare on +44 (0)844 243 6661.
-Ends-
Notes For Editors
Eludril and Elgydium are represented in the UK by:
Ceuta Healthcare Ltd
Hill House
41 Richmond Hill
Bournemouth
Dorset
BH2 6HS
Tel: +44 (0)844 243 6661
Eludril Mouthwash is an antibacterial and analgesic solution which can be used to manage a number of oral health problems.
Its main use is to treat and prevent dental plaque formation and gum disease (gingivitis, also known as periodontitis) by preventing the build-up of bacteria.
Eludril Mouthwash can also be used to maintain oral hygiene in situations where tooth brushing is difficult, for instance, following oral surgery or in physically or mentally handicapped patients.
Eludril can also be used as a disinfectant for the cleansing of removable dentures and in the management of common mouth ulcers and oral candidiasis infections (fungus infections).
Elgydium Anti-Plaque toothpaste is specially formulated for sensitive gums and helps to prevent dental plaque and tartar build-up, the major causes of tooth decay and gum disease.
Elgydium Whitening, Sensitive and Decay Protection are also available as part of the Elgydium range of toothpastes.