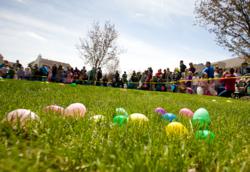 More than 10,000 eggs have been ordered for this year's indoor and outdoor egg hunts.
(PRWEB) March 25, 2013
Children of all ages and their families are invited to the 9th annual Hippity-Hop Easter Egg Hunt from 10:30 a.m. – 1:30 p.m. Saturday, March 30, at The Timbers of Shorewood, 1100 N. River Rd., Shorewood.
More than 10,000 eggs have been ordered for this year's indoor and outdoor egg hunts which begin at 10:45 a.m. Hunts continue throughout the day with the final hunt taking place at 1 p.m.
Locations:

Toddlers up to age three will meet indoors in the balloon pit.
Children age four to eight should meet outdoors south of the patio.
Children age nine to 12 should meet outside north of the patio.
The egg hunt will feature prizes for everyone along with plenty of kid-friendly entertainment including:
Photos with the Easter Bunny starting at 11:15 a.m.
Petting zoo
Caricature artists – Dan Laib and Angel Contreras
Chuckles the Clown
Juggler and magician - Mike Vondruska
Bead poodles - Darlene Bull
Face painting - Kim Giugler
Games, prizes, popcorn, hot chocolate and cookies
Although it is unclear where exactly the egg hunt tradition stems from, eggs and bunnies are symbolic of spring and rebirth. Birds tend to lay their eggs in the spring, and rabbits are very fertile animals whose babies are known to scurry about this time of year.
Just as these symbols have turned into tradition, the Timbers' egg hunt has become a highly-attended and anticipated event within the community.
The Timbers of Shorewood is a rental retirement community which provides independent and assisted living apartments and a full schedule of activities and services. Furnished apartments are also available for a short-term stay - a weekend, a week, a month or longer.
The egg hunt event is free and open to the public. For more information call Shelly Goggins at 815-609-0669 or visit http://www.timbersofshorewood.com.