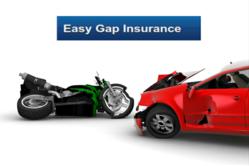 New Easy Gap products look to have extended periods of cover
Wirral, UK (PRWEB UK) 16 November 2012
Leading UK insurance provider Easy Gap are set to launch a new range of Guaranteed Asset Protection products with the option of longer periods of cover. This move comes in response to consumer feedback and reports* that vehicle owners are looking to keep a new purchase for longer.
A spokesperson for the Easy Gap brand explained why the new move has been made, and also how the new products can help UK consumers.
"At Easy Gap we do listen to our customers, and always welcome feedback on our products and how we may improve. There is little doubt that anyone buying a new car in the UK today is buying a more reliable vehicle that comes with the peace of mind of a long manufacturers warranty. It is only natural that consumers will strongly consider keeping a vehicle for longer, as they are less likely to be faced with increasing running costs with warranty protection.
By talking to our Easy Gap customers we became aware that more and more wanted the option of longer cover to compliment their intentions over vehicle ownership. We are also aware that consumers are much happier to compare insurance products before making a decision.
Traditionally Gap Insurance products from motor dealers were offered for a maximum of three years. Online brokers such as Easy Gap have been able to offer up to 4 year cover, some even five year. It is clear to our team that it is necessary to offer an extended period of cover to an increasing number of consumers.
Easy Gap will launch a new range of products with extended period of cover to allow consumers this option. Combined with this we do understand that longer periods of cover mean that consumers want the ultimate confidence also. To this end the new products will feature policy terms underwritten by one of the biggest names in the insurance world.
The Easy Gap team are extremely excited by the new venture and feel confident that our new products will fulfill the needs of our customers going forward."
Easy Gap is a leading Gap Insurance supplier to the UK public, providing financial protection products to vehicle owners. The brand was featured in Which in 2012.
*Report taken from GapInsuranceTV