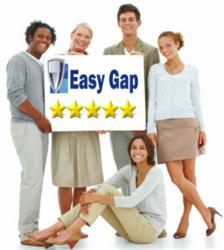 Easy Gap say more UK new car buyers are looking to defer Gap Insurance than ever before
Wirral, UK (PRWEB UK) 20 March 2013
One of the UK's leading Gap Insurance providers has revealed an increase in new car buyers who opt to delay the start of Gap Insurance cover due to a feature of many motor insurance policies. Easy Gap say that UK vehicle buyers are aware that replacement vehicle features on motor insurance cover often exists in the first year of a new vehicle. This has lead to many consumers opting to defer the start date of an extended Gap Insurance policy, as company spokesperson, Mark Connor, explained.
"Replacement cover on a motor insurance policy used to be a fairly standard feature in years gone by, although maybe less so in 2013. This means that if a new vehicle is deemed a 'total loss' by a motor insurer in the first year from purchase, then the motor insurer will simply replace the vehicle with a brand new equivalent."
"If a new car purchaser has this facility on a motor insurance policy, then having a Gap Insurance policy running alongside could simply be a waste of money. The issue is that most motor dealer Gap Insurance products, and even still some of those available online, will require you to take a out Gap Insurance that will have to run from the time of vehicle purchase. This, in our view, simply gives you very poor value for money as you are effectively paying for the same insurance twice."
"In recent years many Gap Insurance, in conjunction with the general move to provide consumers with true value, have provided some products that consumers can delay the start date for."
"The new Easy Gap Vehicle Replacement and Return to Invoice products, launched in November 2012, both allow for a 'deferred' start date. It is the view of Easy Gap that this provides the consumer with the very best value for money possible."
"it would seem that the UK consumer may agree with those sentiments, as the first quarter of 2013 has seen more Easy Gap customers taking the deferred option than ever before. This trend has increased since the 1st of March, which heralded the 13 plate new vehicles in the UK."
"By including this option for Easy Gap customers, product sales will look to easily exceed those achieved by the brand in 2012 and 2011."
Easy Gap say they encourage new car buyers to find out whether the new car motor insurer provides replacement cover in the first year, and also check the terms of the policy before considering deferment.
Mark Connor continued "Easy Gap Customer Service advisors always ask potential customers to check with the motor insurer regarding replacement cover. If this feature is present, and the customer is satisfied as to the terms required, by opting to defer the start date can save the purchaser over £100"
Deferred Gap Insurance products are available from EasyGap.co.uk