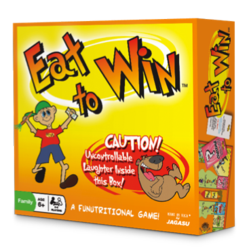 Highland, Michigan (PRWEB) April 09, 2013
Eat to Win LLC, makers of FunNutritional games and products, attended the 2013 National Conference of the Michigan Association for the Education of Young Children in Grand Rapids April 4 to April 6, and is showcased at the National AfterSchool Association Annual Convention in Indianapolis, which began April 7 and ends April 10. In both cases, Eat to Win showcased the benefits their games and products have for children struggling with weight and all those other children who can just benefit from healthier eating habits.
The Michigan Association for the Education of Young Children focuses its efforts on improving the welfare and education for children under the age of nine years old. The National AfterSchool Association is focused on the development, education and care of children and youth in the after school hours.
Jammi Roscoe, Chief Executive Director of Fun for Eat to Win, says, "Our Eat to Win games take children all the way from preschool through fifth grade. They are perfect for use in both classroom activities and after school hours."
"We have had particular interest shown previously by companies engaged in providing after school activities and by Preschools," added Gary Gabel, Co-Founder of Eat to Win. "Our games become tools that teachers, administrators and even parents can use to help children develop a healthy approach to life."
Eat to Win games can play a big role in helping children learn which foods are good for them and which are not. Eat to Win games help children learn the importance of good nutrition and physical exercise in fun, dynamic ways.
For more information, please visit http://www.eattowingame.com.
About Eat to Win:
Eat to Win was created by a concerned mom whose own child struggled with being overweight. Child obesity in America has become a major issue. An unhealthy lifestyle is a common problem among children and adults. Eat to Win was created to help encourage nutrition and exercise through fun and active games. Please share your stories with us on Facebook and Like Us to receive a discount! Our games are in agreement with ChooseMyPlate.gov.