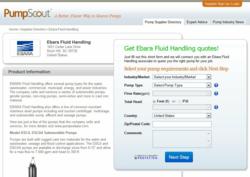 EBARA Fluid Handling is a leader in waste water pumps and more. PumpScout looks forward to recommending their products to our clients.
Tacoma, WA (PRWEB) November 30, 2012
PumpScout, the innovative web service offering pump buyers a better, faster way to source pumps, has partnered with EBARA Fluid Handling Pumps. The EBARA submersible, end suction, self-priming pumps and more are now available on the PumpScout quote platform.
"EBARA Fluid Handling is a true leader in pumps for the water and wastewater markets and more. We look forward to recommending their products to our clients," says Justin Johnson, PumpScout's CEO.
PumpScout offers engineers, maintenance professionals and contractors a new and innovative way to source pumps. The web service allows pump buyers to enter their pumping system requirements and PumpScout.com recommends the right pump suppliers for their project. Then the system connects the buyers and sellers of pumps to get price quotes.
EBARA Fluid Handling is the U.S. sales and service division of EBARA Corporation. Headquartered in Rock Hill, S.C., the company sells and services a wide range of pumps for the water, wastewater, municipal, power generation and energy markets.
EBARA's featured submersible pumps are a great addition to the PumpScout system. The company's cast iron submersible line is capable of handling up to 35,000 gallons per minute and up to 800 HP. EBARA also offers other cast iron pump models including submersible sump, semi-vortex, grinder, non-clog and more.
"PumpScout not only provides a great service for pump buyers, but we also help to promote our partner suppliers. Pump manufacturers understand that PumpScout is rapidly becoming the chosen source to promote their companies, brands and drive buyers that want to buy their pumps," says Johnson. "We will work with EBARA to help increase sales through high quality, targeted leads."
About PumpScout.com
PumpScout.com is the pump buyer's single source for pump suppliers and consumer information, tools and tips on buying and maintaining all kinds of industrial pumps. The website features a powerful quote system allowing buyers to get price quotes – fast and free. For more information, visit PumpScout.com.