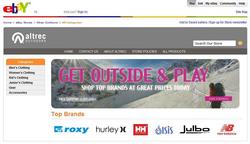 Mercent delivers technology to help large merchants take advantage of the eBay marketplace and eBay Large Merchant Services.
Seattle, WA (PRWEB) March 24, 2009
Mercent™, a leading provider of online marketing technology and services for retail merchants, today announced that the company is an approved member of the eBay Certified Provider Program. The program qualifies companies with expertise and experience in growing eBay seller businesses, and provides sellers with the tools to locate them. Mercent also announced the launch of a new eBay storefront for online retailer Altrec.com, integrated with eBay's Large Merchant Services using Mercent Retail™, the company's hosted online marketing software.
"By partnering with Mercent, the extension of Altrec.com's e-commerce presence onto eBay was predictable and efficient, and we've seen promising results," said Kevin Bauer, VP of Business and Product Development for Altrec.com. "With Mercent, Altrec.com's product pricing, inventory, and merchandising offers are all automatically updated on eBay, resulting in a high-performance eBay presence."
Mercent provides enterprise retailers like Altrec.com the ability to optimize listings across eBay, and efficiently process high order and payment volumes through eBay and PayPal. Mercent is the first eBay integrator to leverage eBay's new Large Merchant Services, designed to increase profitable, high-volume product sales for large sellers on eBay.
"We're pleased to add Mercent to the eBay Certified Provider Program," said Laura Della Torre, head of the Certified Provider Program at eBay. "Mercent delivers technology to help large merchants take advantage of the eBay marketplace and eBay Large Merchant Services."
Mercent's expanded platform now offers large retailers the ability to optimize SKU-level assortment, product content (which drives search and browse visibility), merchandising offers (critical to competitive selling), performance-driven product categorization, and the complete, PayPal-integrated order and payments processing pipeline on eBay.
Mercent helps leading online retailers like Altrec.com drive revenues and profits through ecommerce shopping channels like eBay by providing consolidated shopping feed management, reporting and optimization tools through the on-demand Mercent Retail platform. Mercent is recognized by many in the ecommerce industry as the only shopping feed vendor to provide a complete marketplace integration that includes automated delivery of order data from third-party marketplaces directly into the retailer's existing inventory and fulfillment systems.
In November, Mercent announced the launch of SmartBargains on Mercent Retail and eBay, and the launch of industry-leading support for eBay Large Merchant Services.
Benefits of Mercent Retail for eBay Sellers include:

Complete product feed and order feed integration - ensure your product listings are always synchronized with your back-end systems without manually downloading order reports or uploading inventory figures
Streamlined product catalog management - quickly map your products and categories to the best performing eBay categories. Use automated content rules to apply content changes, such as inserting promotional text, across definable segments of your product catalog
Comprehensive analytics - track and report on the revenue, profits, cost-per-order (CPO), and other key retail advertising metrics associated with orders on eBay and other online shopping feed targets
Powerful optimization features - Automatically optimize advertising campaigns based on listing-specific and product-specific performance parameters including stock levels, gross margin, cost-per-click (CPC), ROAS, and CPO
Information regarding Mercent Retail marketplace, shopping feed and paid inclusion management technology, Mercent Performance marketing services, and the complete list of online marketing channels included in the Mercent Shopping Network is available at http://www.mercent.com .
About Mercent:
Mercent provides online marketing technology and services to help retail merchants optimize performance across online marketing channels. Mercent's on-demand platform, Mercent Retail, connects existing retail management systems and The Mercent Shopping Network, a network of more than 50 online shopping destinations including transactional marketplaces such as Amazon.com and eBay Large Merchant Services, comparison shopping engines (CSEs) such as Shopping.com and Shopzilla, paid inclusion programs like Yahoo! Search Submit Pro, and affiliate marketing programs such as LinkShare and the Google Affiliate Network. Mercent Retail makes it easy for merchants to increase revenue and gross margins by promoting the right products with the right merchandising offers and placement using optimized product shopping feeds to these key retail channels.
Mercent customers include 1-800-Flowers, Bass Pro Shops, Brookstone, GUESS?, L'Occitane USA, Redcats Group, REI, and other leading retailers. Mercent is an Amazon.com Certified System Integrator, eBay Certified Solution Provider, Buy.com Gold Certified Partner, SHOP.COM Certified Data Feed Provider, certified Google Product Search Partner and Yahoo! Search Submit Pro certified feed provider. Founded by veterans of Amazon.com, Mercent is a venture-funded company based in Seattle, WA. For more information, visit http://www.mercent.com.
About Altrec
Altrec.com Outdoors ("all trek") is an e-commerce retailer of premium outdoor clothing and gear. Altrec caters to active outdoor enthusiasts who ski, snowboard, climb, run, camp, paddle, cycle, swim, and explore the edges of the planet. The web site launched in March 1999 with the belief that spending time outside - whether climbing a mountain or taking a quiet hike - helps us to live a healthy, balanced life. More information can be found at http://www.altrec.com.
###