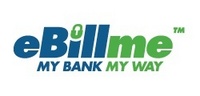 During the current economic uncertainties, shoppers want to feel secure and protected when they spend their money
WILMINGTON, Del. (PRWEB) July 23, 2008
The latest online merchants to add eBillme as a checkout option for shoppers include:
SpecialtyStoreServices, a leading supplier of store fixtures, displays, and supplies to retail stores TotalPetSupply, one of the most trusted online pet stores Motorcycle Superstore, the largest online selection of motorcycle gear, apparel, parts and accessories Comp-U-Plus, offering the latest computer hardware, electronics, software and household goods at everyday low prices Sea of Diamonds, providing an outstanding selection of the highest quality diamond, gemstone and precious metal jewelry at exceptional prices Each new merchant is pairing the consumer appeal of secure cash payment with eBillme promotions to incentivize shoppers at checkout. Current eBillme promotions include money back savings as well as the eBillme Gas Card Promotion which offers free $10 or $20 gas cards for online shoppers who choose eBillme for the first time and spend up to $50 and $100. A complete listing of the eBillme promotions can be found by visiting https://www.ebillme.com/index.php/community2/shop2/.
eBillme is easy to use. When shoppers choose the option at checkout, their order is confirmed with an eBill sent to their e-mail address. Consumers simply pay the eBill through their online checking or savings account—the same way they pay utilities, loans, insurance, and other bills. The transaction occurs securely, bank to bank, with no personal or financial information required or transmitted over the Internet.
Because shoppers pay directly from their online bank account, they don't release any financial information online. This helps consumers manage their spending and debt, while better safeguarding themselves from identity theft and fraud risks. eBillme's buyer protection program takes security a step further. Provided at no cost to shoppers and retailers, the buyer protection features have the same or better buyer protection levels than premium credit cards. Protection features include a return guarantee, price guarantee, in-transit protection, and fraud protection. Consumers can shop with confidence knowing their eBillme transaction is guaranteed and protected.
"During the current economic uncertainties, shoppers want to feel secure and protected when they spend their money," says Marwan Forzley, President and CEO of eBillme. "We provide an easy-to-use cash option for shoppers to reduce their risk of fraud, limit their credit card debt, and better manage spending online—all important factors for a solid financial future. And for merchants, eBillme is an appealing option to attract customers who want the convenience of paying cash but with the safeguards typically associated with credit. We are thrilled to welcome these new retailers to our growing list and as merchants continue to look to alternative payment options to meet consumer needs, we look forward to working with them to enhance the customer checkout experience."
ABOUT eBillme
eBillme™ is the only online payment solution that extends the convenience of online banking to the merchant's checkout, reducing the security risks of shopping online for both consumers and retailers. No financial data is exposed over the Internet to the retailer, and the payment transaction is securely transferred from the customer's bank to the retailer's bank. Consumers can shop online, by catalog or through call centers, and pay for their purchases at their bank, credit union, or bill pay portal, with the security and convenience of online banking. eBillme allows retailers to access the over 84 million Americans who use online banking. For more information, please visit us online at http://www.eBillme.com or our blog, http://blog.ebillme.com/.