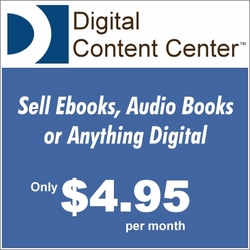 Our new pricing and services are great for all self-publishing writers" explains Art DeVaughn, Director of Operations. "For only $4.95 per month writers get over 35 features as well as a host of affordable ebook publishing services. It's a great value.
Knoxville, Tennessee (PRWEB) March 30, 2010
DigitalContentCenter.com, a leading service provider that helps writers sell ebooks and audio books online has introduced new pricing and services for self-publishing authors.
In addition to the new pricing, DigitalContentCenter.com now offers an extensive line of Ebook Publishing Services including Ebook Cover Design, Kindle Formatting and Distribution, Ebook Micro Websites, Ebook Formatting and Layout, Copy Editing Services, Proofreading Services and Audio Book Creation Services.
DigitalContentCenter.com also boasts a robust set of features including PDF Protection, Customizable Sales & Delivery Pages, Digital Download Shopping Cart Buttons and much more. The ability to sell tangible merchandise items like books, cd's and dvd's is also included.
Digital Content Center is the easy way to sell ebooks and securely deliver them. Visit DigitalContentCenter.com for pricing and feature information or call and talk with a professional advisor for free.
About DigitalContentCenter.com
DigitalContentCenter.com is a privately held company based in Knoxville, Tennessee and owned by Web Services Corporation Inc. The online service allows self-publishing writers to sell ebooks online directly from websites, blogs and social media pages.
Contact Information:
http://www.DigitalContentCenter.com
865-686-5713
###