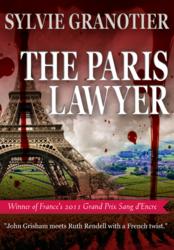 What goes better with a book set in France than actually going there and experiencing it for real?
New York, New York (PRWEB) September 18, 2012
What goes better with a book set in France than the chance to go there and experience it for real? That's the thinking at Le French Book, a new French-to-English publisher that loves books as much as it does France and has set out to share both by bringing great French books to new readers across the English-speaking world.
They are celebrating their first e-release, The Paris Lawyer by acclaimed French bestselling author Sylvie Granotier. To do so, they are giving away a trip to France along with lots of free books, gifts and prizes. In fact, they've partnered with a number of other authors, publishers and even winemakers to turn this book launch into a fête. And they dropped the normal list price by 25% for a limited time.
"This is a really great book and we want to make sure people hear about it," says Anne Trager, the company's founder. "I started this company because I want to share the two things I love most—books and France. So, it seemed perfectly natural to me that we would offer some lucky readers the chance to go to France. Then I started talking to partners who support the project, and we came up with a whole slew of gifts and fun sweepstakes."
At The Paris Lawyer website people can:

Win a trip to Toulouse, France, and stay five nights in the beautiful bed and breakfast Garonnella overlooking the Garonne River.
Win delicious samples of France's best vineyards (to be enjoyed responsibly, of course), thanks to Vignobles & Signatures.
Win lots of books. Five authors—Robert Dugoni, D.P. Lyle, Carin Gerhardsen, Mari Jungsted and C.S. Lakin—are giving away a total of 18 books.
Get a number other bonus gifts, including exclusive material from the author.
The Virtual Launch Party kicks off on September 18. It's for a limited time only.
About Le French Book
Le French Book is a New York-based independent, digital-first publisher specialized in great reads from France. It was founded in December 2011 because, as founder Anne Trager says, "The recent explosion in e-reader ownership provides a perfect medium to introduce readers to some of these fantastic French authors." Anne has lived in France more than half of her life, has 25 years of experience in the translation business and 15 in publishing. Co-founder Fabrice Neuman is French and the company's tech consultant. He is one of France's foremost proponents of e-books and one of the first French journalists to write about them in the mid-1990s. The core team also includes the American translation editor Amy Richards, who is based in Ohio and has a long, award-winning career in writing and editing.