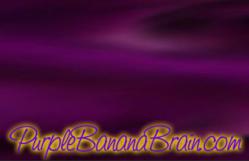 PurpleBananaBrain.com's story graphics supercharged my social media campaign.
NEW YORK, NY (PRWEB) August 12, 2012
Traditional publishing houses are giving way to a generation of online self-publishing. Unknown authors are now in direct competition with celebrated authors thanks to the onslaught of self publishing tools like Amazon's Kindle direct publishing and Barnes and Noble's Nook for eBooks. Now, word of mouth and social media mentions have brought to light a low-key design and marketing firm, PurpleBananaBrain.com, that packs a mean arsenal of high-end story graphics, controversial book trailers, vivid ebook covers, and guerilla marketing tactics. Weapons of mass destruction? Maybe. The most lethal weapon is the elite personal service that backs its products and services. With no direct advertising, PurpleBananaBrain.com, has managed to retain loyal clients who swear by their work.
In the past, authors would turn over their manuscript to publishing houses in exchange for a small percentage of the books' royalties. Control, design, angle, and other factors were handed over to an over-zealous book editor and the only thing left for the author to do was partake in the "waiting game." Wait for the book to get published. Wait to get royalties. Wait. Wait. Wait. But now, authors are more savvy and have taken the reins back, equipped with the ammunition of PurpleBananaBrain.com. The online company specializes in helping new, unknown authors take their place on the literary map.
One author said, "A friend suggested I have my ebook cover done by some weird-named design firm I had never heard of before. I took a chance, with no high expectations, and was completely smitten by the results. My ebook cover pulled in readers just with the design alone. I added the story graphics and that was a homerun. I made back triple what I spent in a matter of days."
An expert marketing consultant and graphic designer with PurpleBananaBrain.com says, "Our clients' success is predicated on a combination of our services. Specifically, ebook cover design, story graphics for social media campaigning and premium press releases for national and international exposure." While some critics say, their services can be found for cheaper, devout clients say their personal service and 24-hour availability can't be surpassed by competitors. One client said, "They care about your book as if it were their own, without controlling it. The value received is incredible and the work is awesome."
PurpleBananaBrain.com also provides valuable resources such as their newly released ebook on how to publish on Kindle. The in-depth, visually appealing, guide gives authors a step-by-step blueprint on how to publish on Amazon's Kindle platform. Those who purchase the book also receive email support in case they get stuck.
PurpleBananaBrain.com's story graphics have also been gaining more recognition as some authors opt for a way to engage their social networking audience. Since book trailers aren't popular for re-tweeting, the story graphics, or pictures, are. And authors are capitalizing on it too. The high-end graphics depict scenes from the book and are coupled with text to pull readers in.
Where once a best kept secret, PurpleBananaBrain.com can no longer hide in the shadows. Their superior work is inevitably shining bright.