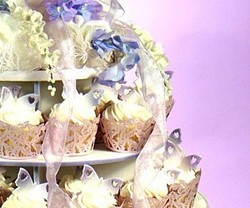 "...brides passionate about having a green wedding...have found a creative, alternative to the wedding cake"
Burlingame, CA (PRWEB) January 25, 2010
In the face of a troubled economy, savvy Greentrepreneur Carole Soss quickly made her mark with Greenpartygoods.com. Launched in February of 2008, her site features an array of guilt free, eco-friendly gifts and tableware, firmly establishing Greenpartygoods as the place to go for one stop shopping for eco-friendly entertaining.
Realizing that her success relies on merging environmental consciousness with the freshest retail trends, Greenpartygoods.com has joined the cupcake craze.
"A large portion of my business has become brides passionate about having a green wedding. They are sensitive to waste, and extravagance. Cupcakes have taken center stage as an economical, convenient, creative, alternative to the wedding cake. The challenge was to find a way to display cupcakes elegantly. Enter the Eco-Cupcake Stand: a reusable, recyclable cupcake tower designed by us, made from two-sided, coated recycled corrugated cardboard, so it can be wiped clean, stored - ready for reassembly and redecoration at another event. We all know that the cupcake is basically an icing delivery vehicle, and the Eco-Cupcake Stand was designed to ensure ample space between each tier for frosting and a topper. Both cupcake stand designs, the square and the round, form perfect platforms to decorate. The bride or hostess can express herself with a personal touch and customize either stand to match the palette of her occasion. We have many beautiful examples of decoration on our site."
Carole recalls a quote about the cupcake being a "sort of little black dress, they are a classic dessert." They are portable, no need for forks or spoons, and they provide nostalgia. There are cupcake classes, cocktail & cupcake receptions, cupcake tours, cupcake bakeries with thousands following on Twitter. So I say have your cupcake and display it too."
###