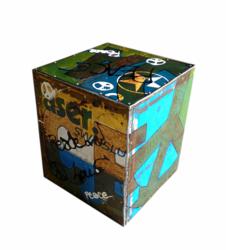 Dallas, TX (PRWEB) March 14, 2013
Sustainable home furnishing company, Groovystuff, is proud to showcase its newest home furnishing collection at the Spring High Point Market in Central North Carolina. The High Point Market is the largest furnishings industry trade show in the world and happens twice a year. This spring, it will be held April 20-25.
The "Moonshine Collection" is from the Chris Bruning Signature Series of Designer Products for Groovystuff. Continuing their use of sustainable and re-claimed materials, the entire collection is made from salvaged steel drums. Historically, the oil drum has been the industry's standard since the mid-1800's, according to Time Magazine's A Brief History of the Oil Barrel. Pennsylvania oilmen used whiskey barrels to collect oil after striking their first oil gushers. Despite being transported through tankers and pipelines, oil is still measured by the 42-gallon barrel on the world market today, all thanks to the early Pennsylvania Moonshiners.
The "Moonshine Collection" will include bar tables, side tables, lighting, wall art, mirrors and other home décor. The newest trend in sustainable home furniture, lighting, and home décor is adding a dash of color to the neutral palette of the reclaimed materials. The "Moonshine Collection" is brightened with brilliant colors to align with this growing trend and to add fun flair.
The collection will be for indoor and outdoor use.
To read more about the High Point Market, visit http:// http://www.highpointmarket.org.
About the company:
Founded in 1998 by Chris Bruning, Groovystuff designs, produces, and distributes unique, eco-friendly, reclaimed teak wood furniture at upper-medium and high-end price points. Based in Dallas, it has permanent showrooms in High Point, NC (The Suites at Market Square, G-1025), Las Vegas (World Market Center, B-146), and once a year at the International Causal Furniture Market in Chicago, IL (The Merchandise Mart, No. 8-9036A). Groovystuff is also a major sponsor of "The University Hall of Innovation & Job Creation," a non-profit founded in 2012 by Chris Bruning that improves the competitiveness of consumer products here in the US by supplying the residential home furnishings industry with the most current education, research, market statistics, technology, product design and innovation, as well as a revolving human resource of graduates from the educational programs and universities that service our industry. For more information, please visit http://www.groovystuff.com or http://www.facebook.com/groovystuff.