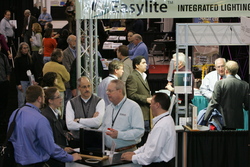 Washington, DC (PRWEB) September 17, 2009
Architects, engineers, owners, facility managers and thousands of other design and construction industry professionals will convene at the Washington Convention Center this December 8-10 for the annual Ecobuild America® conference and exhibit. Ecobuild is the nation's premier event, exploring a unique combination of sustainable, green, high-performance solutions for the built environment with the newest information technology.
Attendees will have access to three days of three-hour workshops and one-hour seminars in five different tracks. Targeted training will be available for commercial, industrial, government and residential AEC (architecture, engineering, and construction) professionals as well as educators.
A two-day exhibit will offer specialized, interactive pavilions and an industry job fair for job-seekers and prospective employers. Additionally, co-located and pre-event conferences, meetings and happenings offer attendees the opportunity for an impactful, multi-purpose visit to the district.
Keynote speakers include Dennis R. Shelden, Associate Professor of the Practice in Design and Computation in the Department of Architecture at MIT and founder and Chief Technology officer of Gehry Technologies. As part of the co-located FEDCon conference, Stephen Ayer, AIA, LEED AP, acting Architect of the Capitols will also deliver a keynote address.
Ecobuild is endorsed by the Alliance to Save Energy. Other sponsors include MechoShade Systems, Onuma and Cisco. Discounted rates are available through 'early bird' registration before October 31, 2009. For more information or to register, visit http://www.aecEcobuild.com.
About Ecobuild America:
Ecobuild America®, a conference sponsored by the National Institute of Building Sciences (NIBS), educates design and construction professionals on how to improve our built environment. This unique conference and exhibit, not only introduces new strategies and materials to create high performance, sustainable structures, but also the technology to do it faster and more profitably. http://www.ecobuildmedia.com
About AEC Science & Technology, LLC:
Under the leadership of principals Richard C. Vendola, Jr., and George Borkovich, AEC Science &Technology, LLC (Centerville, MA), manages and produces Ecobuild America. Together they have a depth of experience in technology and event planning for the AEC industry, including creating and managing the former A/E/C SYSTEMS International conference and exhibition. The events cover the unique intersection where ecology meets technology. AEC Science & Technology is a proud member of: buildingSMART alliance™; CABA - Continental Automated Buildings Association; Green Building Initiative; High Performance Building Congressional Caucus Coalition; Sustainable Building Industry Council; and United States Green Building Council.
Media Contact:
Ian Bryan
828.242.1868
ianbryan (at) sensiblecity.com
###