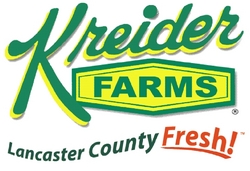 No other egg producer in the country has such a high percentage of their egg production coming from these state-of-the-art facilities
Manheim, PA (PRWEB) February 17, 2009
Lancaster County-based Kreider Farms, the largest family farm producer of fresh shell eggs in Pennsylvania, announces the openings of several new, state-of-the-art chicken houses. The Farm, winner of the U.S. Poultry & Egg Association's 2008 'Family Farm Environmental Excellence Award,' is investing millions of dollars into high-tech egg facilities, which enhance bird welfare and improve food safety.
Kreider Farms' egg division, comprised of four million laying hens, is based out of four Pa. locations around the Lancaster region: Manheim, Middletown, Mount Pleasant and Mount Joy. This past summer, Kreider Farms opened its most advanced 'chicken houses of the future' in Mount Joy. These houses represent a milestone for Kreider Farms: 50 percent of the Farms' total egg production is housed in these new high-tech facilities.
"No other egg producer in the country has such a high percentage of their egg production coming from these state-of-the-art facilities," said Tom Beachler, Kreider Farms' vice president of operations. 'Most egg producers are still operating exclusively out of old-style facilities that are between 20 and 30 years old.' Three additional state-of-the-art chicken houses are planned at the Manheim location, with openings scheduled for 2009, 2010 and 2011. When completed, approximately 75% of all Kreider Farms egg production will come from the newest and most state-of-the-art egg processing facilities available anywhere in the United States.
'There is an ongoing national debate about egg-laying hens, and whether they should live in caged or cage-free environments,' said Ron Kreider, president and CEO, and the third-generation family leader of Kreider Farms. 'Instead of arguing about cages versus cage free egg production, the industry and consumers need to focus on a realistic compromise. Kreider Farms' new chicken house is our vision of what a 'next generation' egg production facility should consist of - a best practice that offers enhanced animal welfare as well as increased food safety.'
Some of the features of Kreider Farms' state-of-the-art chicken houses include:

Tunnel Air Ventilation: A system that flows fresh air equally throughout the houses to every cage, shifting away hot air on warm days and fluffing birds' feathers.
Daily Manure Removal System: Birds' manure falls on a new conveyor belt system. Once on the belt, piped air dries the manure and the belts remove the manure from the building on a daily basis. (This contrasts with regular caged and cage free housing where manure falls straight to the floor and is not cleaned out until the birds are replaced more than a year later. Standing, festering manure produces high levels of ammonia in the air and breeds flies, which reduces food safety.)
Larger, Stainless Steel Cages: These larger boxed cages have much more cubic space, providing additional room for the birds to flap their wings and move about.
Stainless Steel Packing Line: Kreider Farms is one of the few fresh shell egg facilities in the nation to feature all stainless steel packaging lines, which preserves food safety. Although very costly, stainless steel is much easier to clean and to keep clean versus painted surfaces.
Quality & Auditing Programs: These new state-of-the-art facilities are audited by the Association of Registered Professional Animal Scientists (ARPAS). Kreider Farms' eggs are also USDA, HAACP and PEQAP certified. Additional audits are already scheduled to achieve SQF (Safe Quality Food) certification, which will make Kreider Farms the second egg producer in the country to achieve SQF certification.
Watch a video about Kreider Farms' egg division and processes, by clicking here.
'We cannot build these high-tech chicken houses fast enough,' said Dave Andrews, Kreider Farms' vice president of sales & marketing. 'Demand for Kreider's eggs has increased substantially since the first version of the Farms' modern chicken facility was introduced five years ago. We have a 100 percent commitment rate from new clients, who visit the farm. The high technology, cleanliness and obvious well-being of our hens, sets Kreider Farms apart from most other egg producers across the country.' All of Kreider Farms' egg facilities are located within close proximity of its distribution center, which enables the company to be efficient. The distribution center is geographically positioned to service customers from Virginia through New England. Kreider Farms distributes its eggs to retailers, as well as wholesale distributors; varieties sold include white, brown, organic, cage-free, free-range and omega.
About Kreider Farms
Founded in 1935, Kreider Farms is one of Pennsylvania's largest dairy farms, supplying fresh, high-quality eggs, milk, drinks and premium batch-churned ice cream. Headquartered in Manheim, Pa., this third-generation, family-owned and operated company includes more than 2,500 acres with four million egg-laying chickens, 2,000 cows, milk bottling and ice cream plants, and 225 employees. Kreider Farms' mission is to achieve excellence in delivering low-cost, high-quality products; to be good neighbors and stewards of the land; and to operate clean, efficient and state-of-the-art facilities. Kreider Farms offers farm tours as part of its effort to educate the public about sustainable farming. For more information, please visit http://www.kreiderfarms.com.
Contact: Laura Koster
610.254.7432
*High-res photos, videos and farm tours available upon request
# # #