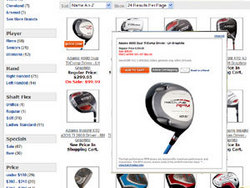 This has fewer customers using the retailer dreaded back button and has expedited each customer's navigational path to checkout on our site.
Rochester, NY (PRWEB) December 2, 2008
UniteU Technologies, Inc., a leading provider of integrated, on-demand e-commerce solutions, announces the recent launch of groundbreaking technology now available to specialty retailers who strive to grow their online businesses.
The entire UniteU platform is designed to increase online stores' revenue, conversion rates, and average order size. The merchant experiences measurable benefits in each of these areas when the shopper enjoys faster, more intuitive product visualizations that present actionable elements in as few clicks as possible. This is exactly what Dynamic Product Display enables.
By leveraging JSON and AJAX technologies the UniteU Dynamic Product Display applies a lightweight data-interchange format with more efficient and faster high performance delivery. The result is that product data is readily available across the site, reducing the time required to search for and display sought after products. The new technology enables compelling front-end capabilities including Quick View and Recently Viewed Products. It is also a great way to enhance the performance of online Product Packaging and Kits and even more applications are currently in the works. Several UniteU customers are already experiencing the benefits.
"In an effort to facilitate navigation and search, Quick View has allowed our customers to see the desired enlarged quick snapshot of the product with the option to buy in an overlay type window, without ever leaving their original search page," reports Joel Harrington, Internet Marketing and Operations Director for Austad's Golf (http://www.austads.com). "This has fewer customers using the retailer dreaded back button and has expedited each customer's navigational path to checkout on our site."
Because of their approach to developing and supporting proven e-commerce software in a hosted environment, UniteU customers can quickly deploy and tailor this capability on their Connected Commerce online shopping websites - just in time for holiday shoppers.
About UniteU
UniteU is a recognized leader in on-demand ecommerce that empowers specialty retailers to create and manage online growth. Our mission is to harness the Web's power to bring revenue to retailers. Our ability to accomplish this is demonstrated by our merchants' success. We have powered startups who reached the pinnacles of top 100 status and we have rescued merchants who outgrew competing systems. The UniteU Connected Commerce platform adapts and scales to meet the ever-changing needs of multi-channel retailers; supporting custom designs, integration, rich media, advanced promotions, multiple payment and shipping options and intuitive search and navigation capabilities. After working with hundreds of retailers, UniteU also retains valuable expertise, offering premier managed hosting, web analytics, in addition to e-business consulting and web marketing services that drive traffic, conversions and retention. Go to http://www.uniteu.com to learn more.
###