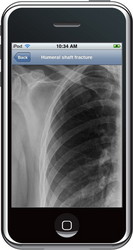 We are thrilled to be included in the EContent 100 once again for 2009
Durham, N.C. (Vocus) December 22, 2009
Modality, Inc., the premier mobile learning architect for iPhone and iPod touch, today announced that it has been named part of the EContent 100, a list of companies that matter most in the digital content industry, as identified by EContent Magazine.
This is the second consecutive year that Modality has received this acknowledgment for their work partnering with leading publishers and content owners to transform medical, educational, travel and legal content into innovative applications for iPhone and iPod touch. The judging panel was comprised of prominent editors and writers from Information Today and EContent magazine, along with other experts in the digital content industry.
Michelle Manafy, Editor-in-Chief of EContent commented, "Modality continues to demonstrate a commitment to innovation in delivering premium content to mobile device consumers. The company provides a key service by helping content owners extend the value of their brands with high quality applications for iPhone and iPod touch."
"We are thrilled to be included in the EContent 100 once again for 2009," said Nate O'Keefe, Modality's director of publishing. "Fundamentally, our business is about creating unique, compelling user experiences for individuals who want to engage with educational and reference material. We share this recognition with the authors, illustrators, editors and publishers who create the content that appears in our applications, and we look forward to bringing more innovation to the mobile, digital content arena in 2010."
Modality has released more than 100 applications for iPhone and iPod touch since the Apple App Store opened in July 2008. Partnering with publishers, content owners and large organizations, Modality creates mobile application solutions to serve a broad range of educational, training and professional reference needs. Modality apps can be found by searching "Modality, Inc." in the App Store, or at http://www.modality.com.
The complete EContent 100 list appears on the December 2009 issue of the magazine, and online at http://www.econtentmag.com
About Modality, Inc.
Modality, Inc. believes every moment can be a learning moment. By taking the most trusted, relevant educational content on the market and reinventing it for the small screen, Modality creates mobile learning applications that fully engage users with the material they need to know. Anywhere, anytime, right on their favorite devices. Modality's content partners include Aspen Publishers, Elsevier, Lippincott Williams & Wilkins, McGraw-Hill, Pearson, The Princeton Review, John Wiley & Sons, and Workman Publishing Co.
About EContent
EContent is dedicated to one of the most essential commodities any business has to offer--content. While the digital era has provided businesses with unprecedented access to content, it has also created an exponentially increasing need to manage, store, and deliver that content in ways that are efficient, effective, and affordable. Every industry—from publishing to pharmaceutical—needs to maximize its content resources. With this steady rise in digital content challenges, EContent magazine is there to help guide professionals with sound advice and breaking news. EContent is the most respected source for information about the digital content industry. The magazine has a mission to clearly identify and explain emerging digital content trends, strategies, and resources that will help readers navigate the content maze and find a clear path to profits and improved business processes. Essential reading for executives and professionals involved in content management, creation, acquisition, aggregation, and distribution in corporate and B2B environments, EContent provides the go-to resource for digital content business strategies.
###